Warning
: Use of undefined constant ICL_LANGUAGE_CODE - assumed 'ICL_LANGUAGE_CODE' (this will throw an Error in a future version of PHP) in
/srv/users/serverpilot/apps/feel-indonesia/public/wp-content/plugins/directory-extension-plugin/aitDirGallery/gallery.php
on line
134
Warning
: Use of undefined constant ICL_LANGUAGE_CODE - assumed 'ICL_LANGUAGE_CODE' (this will throw an Error in a future version of PHP) in
/srv/users/serverpilot/apps/feel-indonesia/public/wp-content/plugins/directory-extension-plugin/aitDirGallery/gallery.php
on line
135
Morotai Island located in the northernmost of Halmahera Island, North Maluku. Morotai is a beautiful island with the white sandy beach and warm seawater throughout the year. So, you can visit Morotai any time from January to December and get the same blue sky and sea. Not too cold nor too warm. Besides that, Morotai has very long history since World War II, as the United States military base in the eastern part of Indonesia when fought Japan. With its position in the northern Indonesia sea, Morotai was a perfect place to block the attacks from sea, especially from Japan. We can see a lot of relics and historical items, as the bombshell, grounding aircraft, tanks, and also some battleships that were drowned during the war. The island also has beautiful beaches and towns once on Morotai were located next to Daruba.
What can we do?
The island has an area of about 1.734 square kilometers, stretching 80 kilometers north and south and about 43 kilometers wide. Surrounded by the sea, you can find a lot of beach and swimming spots here. Morotai's man and young boy mostly work as fishermen, while the woman work as a guide, inn's keeper, or as a traditional food chef. The most famous food was fried lobster or sashimi that made from fish with the unique traditional seasoning. East Coast starts from Daruba (near Pitu Airport) and will eventually reach the Berebere and the main city on the eastern coast of Morotai in about 69 kilometers from Daruba.
1. Playing in white sandy beach in your romantic vacation
Morotai Island is very popular once the tourists from different countries, especially from Europe and America. With a lot of beautiful sandy beach and numerous diving spots, you can enjoy your holiday here. Feel-Indonesia recommends to got here as your next trip to Indonesia.
Every day, there are hundreds of tourists come here. Most are domestic, while maybe 30 percent are international tourists. Don't worry, Morotai has a lot of hotels (mostly two-star hotels) with natural spa, or you can try to sleep in the traditional houses near the seaside. Your vacation here should be very nice and unforgettable. One more, the Morotai's beaches are not as crowded as Bali or Lombok, so you can enjoy your loneliness here, forgetting all of you usual activity and working stuff. Morotai Island is very good one for your summer vacation with your family or your spouse (enjoy the honeymoon). We wait for you to come to Morotai!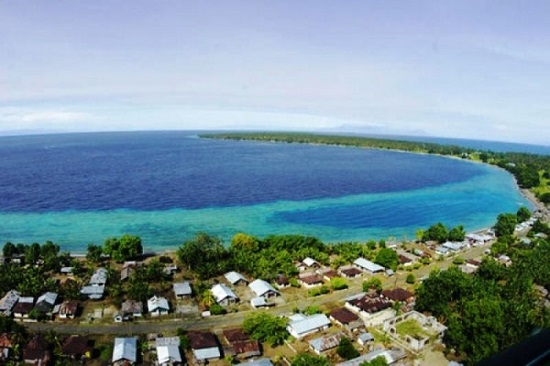 Beautiful Morotai Island Maluku
2. Enjoy fishing or snorkeling
Fishing is one of the activities that you should not miss in Indonesia. With deep blue sea and fish moving line near Morotai, we can catch big Bluefin Tuna or Cakalang. Besides, don't miss the scenic underwater panorama in Morotai. Beautiful corals combined with colorful tiny fishes like clown fish was very great experiences. We have some diving spots pictures that you can use. There are 28 diving spots here with a unique and scenic view each of them.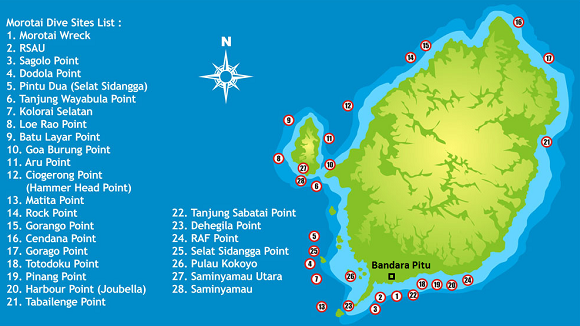 Diving Spots in Morotai Island
3. Watching Morotaiese Dancers Performances
During North Halmahera Cultural Festival, we join the traditional festival and see traditional dance performers came from Berebere in North Morotai. It was called Morotaise Dance. With the traditional costumes and musical instrument Cakalele, you can enjoy the warmth Morotai's culture. Don't forget to take some photos!
How to get there?
From Cengkareng Airport (CGK) in Jakarta, we can take a flight Sam Ratulangi Airport (MDC) in Manado (several flights a day). The flight duration around 3,5 hours without transit or 5,5 hours with transit in Makassar. After arriving in Manado,take the flight again to Morotai Island Airport, Pitu Airport (OTI) with 2 hours flight.
To travel in Morotai Island, you can rent a motorcycle from the hotel or motorcycle rental that was available near the traditional market. The rental price around USD 5-10 for a day. To circle around the whole island (also seeing the beach), you just need 3-4 hours.
Recommended Hotels in North Maluku [More Hotels]
No booking fee and pay at hotel
(sponsored by Booking.com)
Images credit: Website Morotai Island, Indonesia Dive