Warning
: Use of undefined constant ICL_LANGUAGE_CODE - assumed 'ICL_LANGUAGE_CODE' (this will throw an Error in a future version of PHP) in
/srv/users/serverpilot/apps/feel-indonesia/public/wp-content/plugins/directory-extension-plugin/aitDirGallery/gallery.php
on line
134
Warning
: Use of undefined constant ICL_LANGUAGE_CODE - assumed 'ICL_LANGUAGE_CODE' (this will throw an Error in a future version of PHP) in
/srv/users/serverpilot/apps/feel-indonesia/public/wp-content/plugins/directory-extension-plugin/aitDirGallery/gallery.php
on line
135
Husein Sastranegara Airport (BDO) is the only airport in the city of Bandung which serves domestic and international flights. This airport is getting crowded by passengers after AirAsia to open direct flights between Bandung to Kuala Lumpur (Malaysia). Many travelers from Malaysia visit the Paris van Java city, Bandung especially for shopping. The airport is located 5 km north-west from Bandung city center and 2.4 km from Bandung Central train station. Actually Husein Sastranegara Airport has already reached its maximum capacity and can't be expanded anymore because of its location in the city center. In the following years, West Java Government planned to move flight operation from this airport to Kertajati Airport located at the east of Bandung.

The view of Husein Sastranegara Airport Bandung
Husein Sastranegara Airport Facilities
The airport provides visa on arrival service to international visitors from many countries (list). But, I recommend to prepare your visa before arriving in Bandung because it will take some time here doing the registration process. Husein Sastranegara Airport offers complete passengers facilities: including two executive lounges, full free internet access, televisions, prayer room, restaurants, shops, kids corner and ATMs.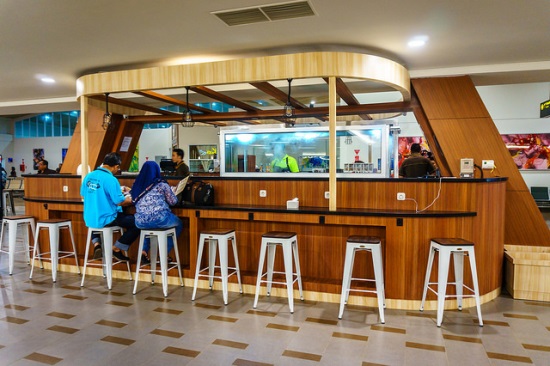 Small cafe at Husein Sastranegara Airport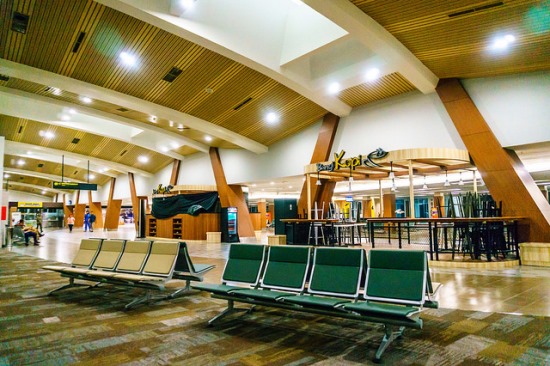 Transfer lounge at Husein Sastranegara Airport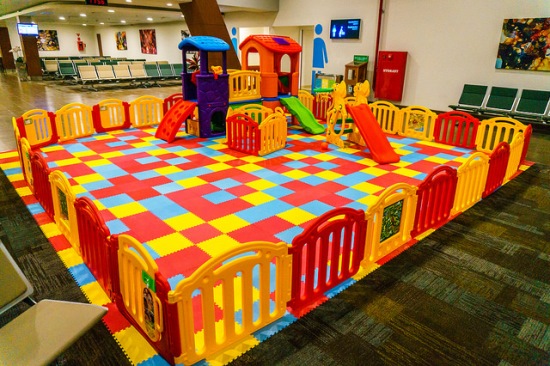 Kids corner at Husein Sastranegara Airport Bandung
How to go to Bandung: The Access to Bandung
1. BY AIR
From Soekarno-Hatta Airport (CGK) in Cengkareng Jakarta, we can take a flight Husein-Sastranegara Airport (BDO) in Bandung (several flights a day). The flight duration around 40 minutes.
The easiest way to go to Bandung from other cities is by air since Husein Sastranegara Airport is located just outside the city. The flights will cost around 600.000 rupiahs or around 50 dollars from Surabaya, Makasar, Bali, or Lombok with several regular daily flights. Indonesia AirAsia, Garuda Indonesia, Lion Air, Wings Air, and Silkair serves daily flights from Jakarta, Surabaya, Bali, Lombok to Bandung (roundtrip, several trips a day).
2. By car or Bus
If you are in Jakarta, the cheaper way was by taking bus or travel car to Bandung. There are several bus or travel car from Primajasa, DAMRI, Cipaganti, X-Trans, or Day-Trans that connects Soekarno-Hatta Airport and several check-points in Jakarta and Bandung. Most of travel cars departs every one hour starts from 07:30 to 22:30. The journey will takes roughly 3 hours depends on the Jakarta's traffic and Cipularang Toll Road.
3. By train
You also can take trains from Gambir Station to Bandung Station. There are six trips in one day departs from 05:45 to 19:40. If you take train from Jakarta to Bandung, especially during the day, you can see the view of the hills, valleys, and tea gardens outside the trains windows. The trains from Jogjakarta, Surabaya, Semarang have two train trips every day to Bandung and they take 8 to 12 hours.
Travel Around in Bandung
Until now, no public transportation of a direct bus between Bandung Husein Sastranegara Airport and the Bandung City Center. The only public transportation is a taxi. One thing that you should know that Bandung Husein Sastranegara Airport is situated in the military air base of Air Force and the main entrance gate is still distant enough to the airport. If you do not use a taxi or private vehicle, then you have to walk about 15-20 minutes from the airport to the main gate, or you can use the services of motorcycle taxi (ojek) for around 20.000-30.000 rupiahs. After that, you can use Angkot (public transportation) to the city center, especially for the route Sadang Serang-Caringin (small public transportation car with blue color)/.
Recommended Hotels near Husein Sastranegara Airport [More Hotels]
No booking fee and pay at hotel
(sponsored by Booking.com)
Images source: Flickr BxHxTxCx (using album), bagus reza, bagus reza, bagus reza, Rama Nusjirwan, bagus reza