Warning
: Use of undefined constant ICL_LANGUAGE_CODE - assumed 'ICL_LANGUAGE_CODE' (this will throw an Error in a future version of PHP) in
/srv/users/serverpilot/apps/feel-indonesia/public/wp-content/plugins/directory-extension-plugin/aitDirGallery/gallery.php
on line
134
Warning
: Use of undefined constant ICL_LANGUAGE_CODE - assumed 'ICL_LANGUAGE_CODE' (this will throw an Error in a future version of PHP) in
/srv/users/serverpilot/apps/feel-indonesia/public/wp-content/plugins/directory-extension-plugin/aitDirGallery/gallery.php
on line
135
Are you still not familiar with Lembang? Lembang is a beautiful highland area located in the northern city of Bandung, the biggest city and the capital of West Java. Bandung, was very popular local destinations especially during the weekend. Lembang is situated between 1,312 and 2,084 meters above sea level, provides us cool climate between 17 and 24 degrees Celsius. As one of the best places to spend a brief holiday weekend, Lembang not only offers beautiful natural scenery but also provide many unique tourist activities that will give you a special experience. Here are 5 unique tourist activities you can do when visiting Lembang, Bandung.
What can we do?
1. Studying the Solar System in observatory
Studying and directly observing celestial objects such as stars, moon, planets and meteors would be an educational travel experience unforgettable. In the oldest and largest observatory in Indonesia this, you will be invited to explore the solar system with the explanation given directly by astronomers, interesting videos about the circulation of the heavenly bodies and direct observation with a telescope. Telescope observatory has a collection of diverse, from small to super large size, most are still able to function properly. Observatory opened to the public every Saturday at 9 AM to 1 PM every Saturday. Address: Jalan Peneropong Bintang, Lembang, Kabupaten Bandung Barat, Jawa Barat 40391, Indonesia.
2. Accept the Challenge be a Cowboy in De Ranch
Cowboy-style action in Lembang? Can really. De Ranch is a ranch where horses were transformed into tourist attractions American-style cowboy era in which the horse is still a major work animal. In De Ranch, you can enjoy the atmosphere of the ranch on horseback, take pictures with the typical costume cowboy, feed the horses straight at home, learn about maintenance and care of horses and many other activities to do with family, which certainly unique and interesting. De Ranch is open every day, except Mondays. De Ranch open from 9 AM to 5 PM every day. Address: Jalan Raya Maribaya No.17, Kayuambon, Lembang, Kabupaten Bandung Barat, Jawa Barat 40791, Indonesia.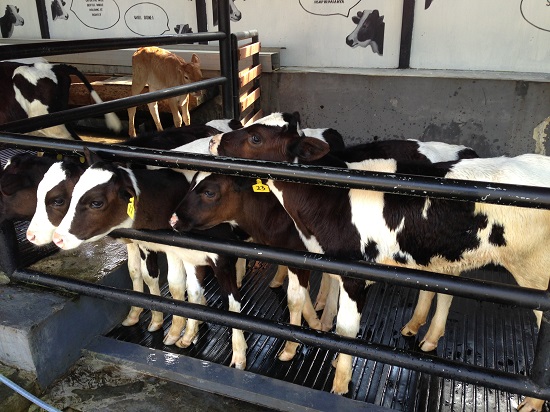 Seeing cow in the Ranch Lembang
3. Feel the atmosphere in the hamlet Natural Rustic Bamboo
Want to relax while spending time with loved ones? Dusun Bambu is the right choice. A family amusement park concept of nature and rural atmosphere will make you forget for a moment the tired routine in the city to get back to nature. Dusun Bambu has facilities like a natural flower garden, artificial lakes iconic themed restaurant hive artistic and bamboo huts. As the name implies, most of the ornaments in the hamlet Bamboo bamboo giving the impression of a unique rural feel. In addition, you can also take pictures in interesting spots spread throughout the region Dusun Bambu. Dusun Bambu opens from 8AM until 9 PM. Address: Jalan Kolonel Masturi KM. 11, Kertawangi, Cisarua, Lembang, Kertawangi, Cisarua, Kabupaten Bandung Barat, Jawa Barat 40551, Indonesia.
4. Exploring the Beauty of Flower Garden Begonia
Traveling in a flower garden? Why not? Begonia is the name of the type of interest that developed in the flower garden. Begonia flowers generally red and grows in the highlands. Begonia in Flower Garden, you can find thousands of flowers of various kinds of Begonia itself and other plants. In addition, you will also be invited to experience caring for crops, picking fruit crops and bring home the Begonia flower seeds to be treated at home. Interesting right?
5. Enjoy Fresh Milk While enjoying European ambiance at Farmhouse
Farmhouse, a unique milk processing, has now become one of the compulsory destinations that you have to go when vacationing in Lembang. There you will be treated to complimentary fresh milk at the entrance as a provision for you to explore the interesting spots in a rural setting Europe. Guaranteed you'll be tempted to stop and take pictures at each spot is unique in the Farmhouse because everything is very Instagram-Mable. One favorite spot is a hobbit house, and you must be willing to stand in line to immortalize yourself in that spot. You can also go to the traditional European-style clothes that are rented by the Farmhouse. In addition to taking pictures, you can also capture your love with a padlock of love, feed the sheep, and buy souvenirs. Farmhouse open from 9 AM to 8 PM every day. Address: Jalan Raya Lembang No. 108, Lembang, Bandung Barat, Gudangkahuripan, Lembang, Kota Bandung, Jawa Barat, Indonesia.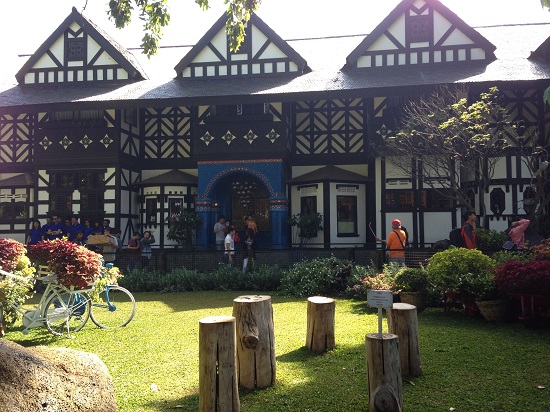 European building in Farmhouse Lembang
So, make sure you come to Lembang and experience a wide variety of unique tourist options available.
How to get there?
From Cengkareng Airport (CGK) in Jakarta, we can take a flight Husein-Sastranegara Airport (BDO) in Bandung (several flights a day). The flight duration around 40 minutes.
Besides that, the cheaper way was by taking bus or travel car to Bandung. There are several bus or car from Primajasa, Cipaganti, X-Trans, or DAMRI that connects Soekarno-Hatta Airport and several check-points in Jakarta and Bandung. Mostly travel every one hour starts from 07:30 to 22:30. The journey will takes roughly 3 hours depends on the Jakarta's traffic.
You also can take trains from Gambir Station to Bandung Station. There are six trips in one day starts from 05:45 to 19:40. Please note that you need two hours spare from Soekarno-Hatta Airport to Gambir Station, in case of traffic jam in the center of Jakarta.
After arriving in Bandung, you can rent a car (with or without driver) and go to Lembang, around 20 kilometers northwest of city center.
Recommended Hotels in Lembang [More Hotels]
No booking fee and pay at hotel
(sponsored by Booking.com)
Images credit: Feel-Indonesia Team