Warning
: Use of undefined constant ICL_LANGUAGE_CODE - assumed 'ICL_LANGUAGE_CODE' (this will throw an Error in a future version of PHP) in
/srv/users/serverpilot/apps/feel-indonesia/public/wp-content/plugins/directory-extension-plugin/aitDirGallery/gallery.php
on line
134
Warning
: Use of undefined constant ICL_LANGUAGE_CODE - assumed 'ICL_LANGUAGE_CODE' (this will throw an Error in a future version of PHP) in
/srv/users/serverpilot/apps/feel-indonesia/public/wp-content/plugins/directory-extension-plugin/aitDirGallery/gallery.php
on line
135
As the biggest city in Sulawesi and also the metropolitan city, we can see several cultural attractions, traditional houses, and also delicious traditional foods from Bugis, Toraja, Mandar, Buton, Tionghoa, and Javanese. There are a lot of tourism spots that you can visit in your travel to Makassar, like Losari Beach, Trans Studio Makassar, and Fort Rotterdam. Sultan Hasanuddin Airport (UPG) is located around 20 km from Makassar and has flights to Jakarta, Yogyakarta, Surabaya, Denpasar, Banjarmasin, Balikpapan, Kendari, Palu, Manado, Gorontalo, Ambon, Ternate, Manokwari, Sorong, Kuala Lumpur, Singapore, and Jayapura.
How to go to Makassar: The Access to Makassar
1. BY AIR
The easiest way to go to Makassar is by air or taking a flight. Sultan Hasanuddin International Airport is located just outside the city. The flights will cost around 500.000 rupiahs (40 dollars) from Denpasar Bali, or around 1 million rupiahs from Jakarta.
There are regular daily flights from Bali, Jakarta, Surabaya, Makassar, Sumbawa, Manado, and Papua.
Garuda Indonesia, Garuda Citilink, Air Asia, Lion Air, Wings Air serves daily flights from Jakarta, Surabaya, Bali, Lombok to Makassar (roundtrip, several trips a day).
From the airport, you can take the taxi to the city, that cost around 70.000-100.000 rupiahs (5-7 dollars). Besides that, there is a shuttle bus 1-2 times/hour that connects city center and the airport (Jl. Ujung Pandang, Lapangan Kerebosi, and outside Makassar Mall).
Booking your tickets now!
2. By ships
Makassar is a major port for Pelni ships. Travel by ships is the cheapest way to reach Makassar. If you are in Bali, you can take a public ferry and reach Makassar from Bali is by sea. This ferry was departed from Padang Bai Harbour, east Bali to Makassar Harbour. It will take 12-16 hours. If you are in Surabaya, you can ship departed from Tanjung Emas Harbour to Makassar Harbour. It will take 18 hours.
Traveling by sea with public ferry may look cheap. But, for your notice, to go to Padang Bai in Bali, it will cost you more than taking flights and it also saves a lot of time and energy.
Travel Around in Makassar
You can get becak or tricycle to anywhere around the town for about 5.000 to. 10.000 rupiahs depend on the distance covered. Other options get ojek (motorcycle taxi) that costs around 20.000-50.000 rupiahs (2-4 dollars). Public transportation in Makassar called "petepete" or Angkot could be found near Makassar Mall and connects to almost all of tourism spots, the fare is 5.000 rupiahs (0,4 dollars).
Makassar has a lot of taxi companies, all have the same fare and all use meters. The most well-known was Blue Bird Taxi. You can reserve booking at (0411) 441234.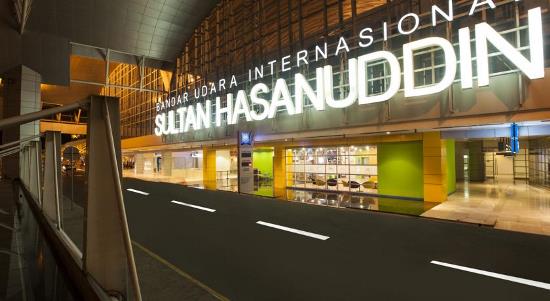 Sultan Hasanuddin Airport in South Sulawesi
Staying in Hotel inside Sultan Hasanuddin Airport
If you arrived here in the late night or have departure time early morning, you can stay in Ibis Budget Makassar Airport. It was located right near the departure gate of Airport. The rooms and suites have been designed to meet the needs of both business and leisure travelers.
Recommended Hotels near Sultan Hasanuddin Airport [More Hotels]
No booking fee and pay at hotel
(sponsored by Booking.com)
Picture: blogspot.com, booking.com