Warning
: Use of undefined constant ICL_LANGUAGE_CODE - assumed 'ICL_LANGUAGE_CODE' (this will throw an Error in a future version of PHP) in
/srv/users/serverpilot/apps/feel-indonesia/public/wp-content/plugins/directory-extension-plugin/aitDirGallery/gallery.php
on line
134
Warning
: Use of undefined constant ICL_LANGUAGE_CODE - assumed 'ICL_LANGUAGE_CODE' (this will throw an Error in a future version of PHP) in
/srv/users/serverpilot/apps/feel-indonesia/public/wp-content/plugins/directory-extension-plugin/aitDirGallery/gallery.php
on line
135
Soekarno-Hatta International Airport (CGK) is the biggest airport in Indonesia. Serves more that 56 million passengers a year, Soekarno-Hatta stands in the sixteenth position as the busiest airport in the world. This airport not only becomes the main gate of Indonesia but also serving the greater Jakarta area on the west part of Java. The airport is named after the first President and Vice-President of Indonesia, Soekarno, and Mohammad Hatta to honor them in the Indonesia's history. This airport is located 30 kilometers northwest Jakarta, connected with toll-road to the city center. You can read our complete Jakarta Soekarno-Hatta Airport guide.
Soekarno-Hatta Airport Facility
You can make visa on arrival after arriving in Soekarno-Hatta if you have nationality from this list. Passengers facilities here include several executive lounges (near every Gate Terminal), beautiful indoor and outdoor garden, free internet access, TV, prayer room, restaurants, souvenir shops, and ATMs.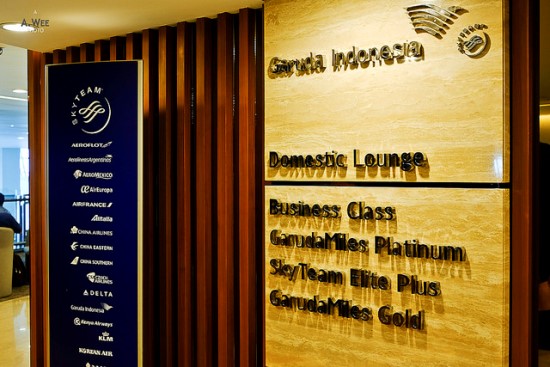 Lounge Entrance at Jakarta Soekarno-Hatta Airport Terminal 3
Each terminal building is divided into three concourses. Terminal 1A, 1B, and 1C are used mostly for domestic flights by Indonesia Airlines. Terminal 1A serves flights by Lion Air (all domestic route except Sumatera) and Wings Air. Terminal 1B serves flights by Lio Air (Sumatera route only), Kartika Airlines, Ekspress Air, and Sriwijaya Air. Terminal 1C flights by Airfast Indonesia and Citilink.
Terminal 2D for all airlines that are serves flights by Citilink, Batik Air. Terminal 2E for international airlines served by Garuda, including all international flights Garuda and Merpati. Terminal 2F for domestic flights Air Asia, Sriwijaya Airlines, NAM Airlines, Merpati Nusantara Airlines.
Terminal 3U serves Garuda Indonesia for domestic route and several international flights by international airlines, also serve all international flights of foreign airlines.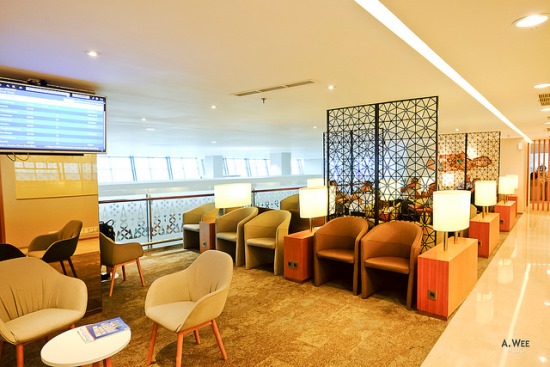 Inside the lounge at Jakarta Soekarno-Hatta Airport Terminal 3
Can we sleep in the airport?
Terminal 2 is the best if you want to sleep. There are a lot of seats as this is for International Terminal (usually, departs or arrived during the midnight).
A lot of benches are steel but have no armrests.
In Terminal 1, go to check-in area and head upstairs to the nearest shops and restaurants. Before security cheque, there's a free lounge on the right side that has some comfortable leather couches.
The air conditioning is cold so bring an extra jackets or syals.
Showers available in every toilet. Just in case you want to take a bath before going to the downtown of taking the next flight.
For uninterrupted sleep, a few hotels are located at or close to the airport. See the Hotel near Soekarno Airport.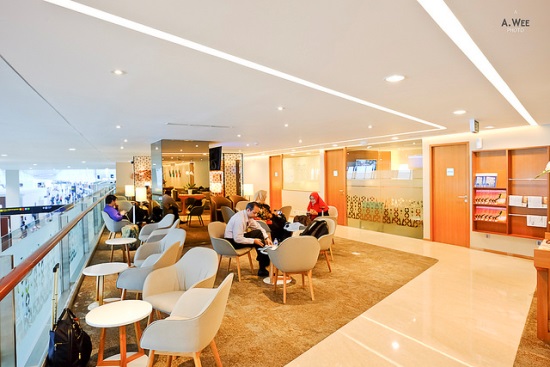 Tax Duty-Free Shopping in Soekarno Hatta Airport
A few Indonesian handicrafts & souvenirs can be the last minute idea for a gift before boarding an international flight (usually 2-3 hours before). Besides that, Lotte and Plaza Bali each has a huge duty free shop between terminals 2D or 2E. If you buy goods in Lotte Duty Free in downtown Jakarta, you can pick up your items on the same day at the airport.
Book Now Private
Transfer CGK-Jakarta
Garuda Indonesia Business Class lounge at Jakarta Soekarno-Hatta Airport Terminal 3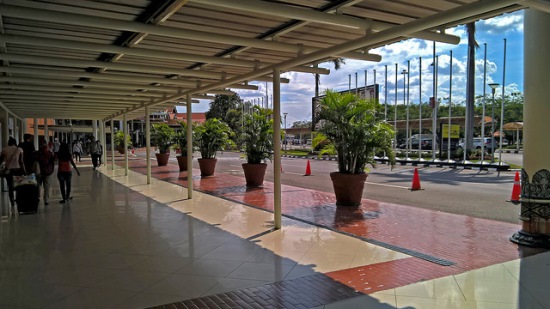 Jakarta Soekarno-Hatta Airport Terminal 1
How to go to Jakarta: The Access to Jakarta
1. BY AIR
Jakarta is the main gate and main hub for all flights to Indonesia. Almost all international and domestic flights is serve here, to Malaysia, Philippines, Singapore, Thailand, Tokyo-Japan, Europe, and Americas.
Travel Around in Jakarta
1. BY TAXI
Several Taxi companies operate at Jakarta airport, including Blue Bird, Silver Bird, Golden Bird and Gamya. Taxi counters are located on the Arrivals level after customs and outside at the taxi stand. From Soekarno-Hatta Airport to the city center it costs around 250.000-300.000 rupiahs.
2. BY BUS
You can reach city center or several cities around Jabodetabek: Tangerang, Bogor, Depok, Bekasi by using DAMRI (state owned bus operator) buses. You can many point of transits with the costs 40.000-60.000 rupiahs (4-6 dollars). The fare is cheaper than a train ride to the city, but it takes 90 minutes for the journey.  If you want to go to Bandung, you can take travel car or Primajasa (pleasee see How to go to Bandung from Jakarta).
3. BY CAR
Besides that, you can also rent a car in car rental agent in the airport such as ASSA, Blue Bird, TRAC, and SENA. Car rental prices range from 400.000-500.000 rupiahs per day exclude the gasoline. Book online here via Klook Website.
Hotel near Soekarno-Hatta Airport
If you arrived lately in the night or have the morning flight, we recommend you to stay in the hotel near the airport. All of the have free shuttle service from hotel to Bandara or vice versa.
Amaris Hotel Bandara, address: 

Jl. Husein Sastranegara No. 1 Benda, Tangerang 15125, phone: 021-54365333

POP! Hotel Bandara

, 

address: Jl. Raya Bandara No. 106, Rawa Bokor, Benda, Tangerang 15125

, phone: 021-29405678:

Swiss Bell Hotel Bandara Soekarno-Hatta

, 

address: Jl. Husein Sastra Negara
Kav. 1, Jakarta, 15125, Tangerang,

phone: 021-5506800

Orchardz Hotel Bandara

, 

address: Jl. Husein Sastranegara No 8, Tangerang 15125

, phone: 02129667777: 

D Prima Hotel, located in the Arrivals are in Terminal 1A  and present as a complementary facility for air travelers who need a place to stay.


address: second floor of Terminal 1A

, phone: 021-55916432

Jakarta Airport Hotel

, located in the Terminal 2E

, phone: 021-5590008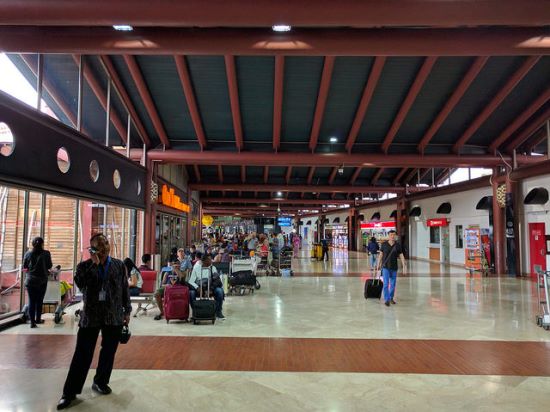 Jakarta Soekarno-Hatta Airport Terminal 2
Board checking at Jakarta Soekarno-Hatta Airport Terminal 2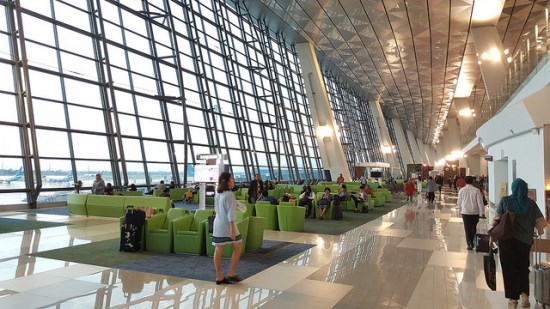 New Boarding Lounge at Jakarta Soekarno-Hatta Airport Terminal 3
Recommended Hotels near Jakarta Soekarno-Hatta Airport [More Hotels]
No booking fee and pay at hotel
(sponsored by Booking.com)
Images Sources: Flickr A. Wee, A. Wee, A. Wee, baka_neko_baka, porkandchicken, FajarMuhammad, AnakMelayuRiau, AnakMelayuRiau