Warning
: Use of undefined constant ICL_LANGUAGE_CODE - assumed 'ICL_LANGUAGE_CODE' (this will throw an Error in a future version of PHP) in
/srv/users/serverpilot/apps/feel-indonesia/public/wp-content/plugins/directory-extension-plugin/aitDirGallery/gallery.php
on line
134
Warning
: Use of undefined constant ICL_LANGUAGE_CODE - assumed 'ICL_LANGUAGE_CODE' (this will throw an Error in a future version of PHP) in
/srv/users/serverpilot/apps/feel-indonesia/public/wp-content/plugins/directory-extension-plugin/aitDirGallery/gallery.php
on line
135
Kualanamu Airport (KNO) starts to operate on July 23, 2013, replacing Polonia Airport in the Medan which is overcapacity of passengers. Kualanamu Airport was located in Deli Serdang, 40 kilometers east Medan, with tripled capacity against Polonia Airport. Nowadays, Kualanamu Airport is the second biggest airport in Indonesia, just after Soekarno-Hatta Airport in the capital of Indonesia Jakarta. In 2025, Kualanamu Airports targeted to serve more than 50 million passengers a year. As the gateway to the popular destination in North Sumatera: Lake Toba, Samosir Island, Brastagi, Prapat, and Balige, it was not an ambitious dream. This airport is transforming into important hub between Jakarta and several cities in West Indonesia Area. Kualanamu Airport also the first airport in Indonesia that have integrated railway to the nearest and the biggest city in North Sumatera, Medan.
Kualanamu Airport Facility
Kualanamu Airport provides visa on arrival service to international visitors from many countries (list). But, I recommend preparing your visa before arriving in Kualanamu Airport because it will take some time doing the registration process. Passengers facilities here include two executive lounges, sports center, beautiful parks, internet access, TV, prayer room, restaurants, souvenir shops, and ATMs. Besides that, this airport already equipped with technology or the BHS Baggage Handling System (BHS) technology. BHS is a scanning technology and grouping of baggage and goods automatically which is commonly introduced in the developed countries.
Link: Kualanamu Airport Guide Map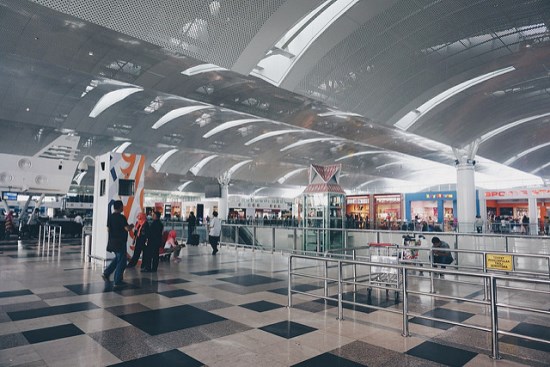 Kualanamu Airport Departure Hall
How to go to Medan: The Access to Medan
1. BY AIR
The easiest way to go to Medan is by air. Kualanamu International Airport is located just outside the city. The flights will cost around 1,2 million rupiahs or around 90-100 dollars from Jakarta, Surabaya, Makasar, Lombok, or Papua.
Almost all Indonesia Airlines have the route to Kualanamu. Garuda Indonesia, Citilink, Air Asia, Lion Air, Wings Air, Susi Air, Wings Air serves daily flights from Kualanamu to the almost all city in Indonesia.
Besides that, Firefly, Malaysia Airlines, Jetstar, and Indonesia Air Asia provide the international flight to Singapore, Penang, and Kuala Lumpur.
Travel Around in Medan
1. By Train
Kualanamu Airport is the only Airport in Indonesia that connected to the railway system (as per 2016). The ticket price is 100.000 rupiahs or 8 dollars. You can book online or buy it directly from the ticket office or vending machines, with Visa and MasterCard and debit card of BNI, BRI, BCA, and Mandiri.
The trains depart from Medan Station (near Lapangan Merdeka and Balai Kota) at 04.00 to 20.00 or until 21.20 (in Friday and Sunday). And from the airport to Medan Station starts from 05.05 to 09.15 and 11.30 (on Friday and Sunday). It is the fastest way to reach the airport, just take 30-45 minutes, not so fast actually since the rail route is used also by local train to Binjai, Rantau Prapat, and Lubuk Pakam.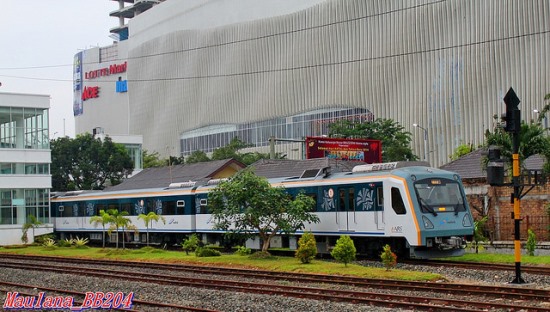 The train departs from Kualanamu Airport Station
2. By Taxi
When you arrive at the Domestic Terminal, you can use the airport official taxi by buying tickets at the official counter taxi. This counter opens until the last flight, and you can find it right at the exit gate arrival. From Kualanamu Airport to the city center it costs around 250.000-300.000 rupiahs (20-25 dollars).
3. By Bus
You can reach Medan also from Kualanamu Airport by using DAMRI bus (state owned bus operator) buses. You can choose either Amplas Bus Terminal and Plaza Medan Fair, with the costs 15.000 rupiahs (1,5 dollars). The fare is cheaper than a train ride to the city, but it takes 60 minutes for the journey. DAMRI bus also serves route from the Airport to Stabat.
4. By car
Besides that, you can also rent a car in car rental agent in the airport such as ASSA, Blue Bird, TRAC, and SENA. Car rental prices range from 400.000-500.000 rupiahs per day.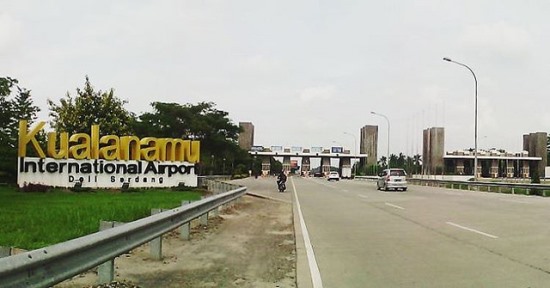 Kualanamu Airport Toll Road
Booking your tickets now!
Recommended Hotels in Medan [More Hotels]
No booking fee and pay at hotel
(sponsored by Booking.com)
Images source: Flickr