Warning
: Use of undefined constant ICL_LANGUAGE_CODE - assumed 'ICL_LANGUAGE_CODE' (this will throw an Error in a future version of PHP) in
/srv/users/serverpilot/apps/feel-indonesia/public/wp-content/plugins/directory-extension-plugin/aitDirGallery/gallery.php
on line
134
Warning
: Use of undefined constant ICL_LANGUAGE_CODE - assumed 'ICL_LANGUAGE_CODE' (this will throw an Error in a future version of PHP) in
/srv/users/serverpilot/apps/feel-indonesia/public/wp-content/plugins/directory-extension-plugin/aitDirGallery/gallery.php
on line
135
One of the most famous volcanic lake in the world was here, in Indonesia. If you see Indonesia's map from Google Earth, you can see blue water in the North Sumatera Province, and that was Lake Toba. Located in the North Sumatera, Lake Toba is the third largest tourist destination in Indonesia with Samosir, island in the center of the lake attracts many tourists. With the strong cultural background and rich civil society called Bataknese–orang Batak–Lake Toba stands as a must visit place in Indonesia. Lake Toba, especially is the hometown of most Bataknese people in Indonesia. Also for myself. Even though I already born in Jakarta, but Lintongnihuta and Bakkara (places near the south shore of this lake) is my parent's home.
Information about Lake Toba
Lake Toba is the largest lake in Southeast Asia, once created by a massive eruption about 100,000 years ago. It was said that the eruption was 5,000 times more powerful than Hiroshima Atomic Bomb in Japan 1945. Ashes that comes with the lava was still in the stratosphere around the earth for years layer, and change the world climate. Then, the last volcanic eruption occurred at a later time 25,000 years ago make the small island in the center of caldera. The island then called Samosir. As the year go on, water fill the caldera and make Lake Toba.

Lake Toba in North Sumatera Indonesia
The lake covers area approximately 1.265 square kilometers. The depth is at the base of the average of up to 450 meters up to 900 meters, make Lake Toba also stand as the deepest lake in the world. Lake is located at an altitude of 906 meters above sea level, giving you a cold climate here.
Legend behind Lake Toba
As I told you before, there is a legend about the history of Lake Toba closely related to traditional society that live near the lake, Batak people. Here is the legend; Once upon a time there was a man living in the area at the present time Danau Toba. He had a garden and doing some fishing. One day caught a very big fish. This was the largest catch ever in his life. He brought the fish to the home, and wanted to eat it. Suddenly, that fish turned into a beautiful princess adorned with jewels. He fell in love with her and proposed her. The princess answered yes, but with one promise. The man must promised not to tell anyone that she was a fish. If it would, there would be a disaster.
They married and got a son and live in happiness, he always brought lunch to his father in the fields. One day, he was but too greedy and one day he ate his father.'s lunch. Her father got angry and scolded: "You are the son of the damned fish!" Princess (his wife) began to cry when she heard what her husband had said. She told her son to go to the hills, where there will be a disaster. Soon there was an earthquake, rain started to fall and springs appeared everywhere. The whole area got flooded and became Lake Toba. Princess turned into a fish again, and became her wife become Samosir Island.
Area Around Lake Toba
Area around Lake Toba was divided into different civil society. Those on the west side of the lake became the Batak Toba and on the east side Batak Simalungun. Some in the south become Mandailing and Pakpak. You can see traditional Batak houses with distinctive roofs (which curve upwards at each end, like a sunk boat) and their colorful decor.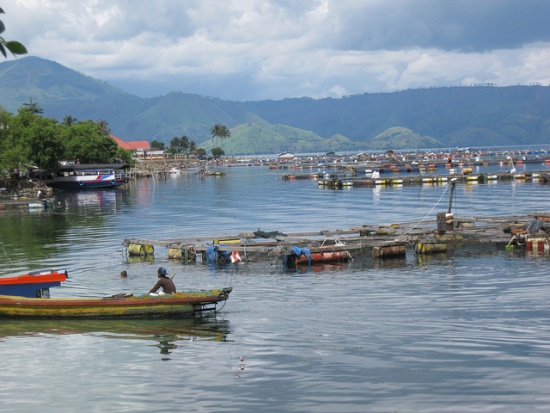 People at Lake Toba Indonesia
Three years ago, access to Lake Toba lowest water level than ever before, which caused problems, especially for tourism and fishing. The reasons that led to low water levels of deforestation and excessive water consumption by the pulp and paper company near Porsea in the east side. Companies consume more water than Lake Toba ability. After a strong and violent protests in some cases from local communities, and paper pulp factory, Indorayon, it has been closed. Since the closing of Indorayon, the water level has been reached in the Lake Toba normal levels and the lake has regained its original beauty.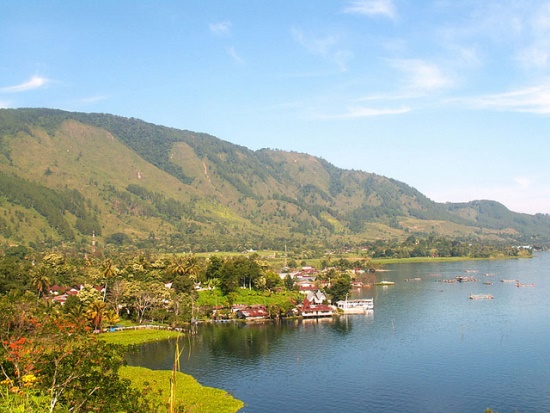 Lake Toba and Samosir Island
When to go there?
1. September-early January
During this time, you can enjoy a lot of festivals in Lake Toba. The most popular festival is Lake Toba Festival, an annual event where we can see local art, music, and sports performances. With the majority religon here is Christian, there are several Christmas and New Year celebrations here. Please make sure when the festival will be held before you plan your holiday.
2. May-September
Dry season here, we can see and enjoy the beauty of lake and sorrounding area without any worries of rains. During this period, Lake Toba also less crowded and you can enjoy swimming or walking around.
How to get there?
You can take several flights from Jakarta, Surabaya, Bali, Makassar, or Lombok to Kualanamu International Airport in Deli Serdang and then travel onwards by land to Parapat, the town by Lake Toba. Parapat is about 4 hours by car from Medan or 4-6 hours by public bus. Parapat is connected to Tomok and Tuk Tuk on the Samosir Island by a ferry. There are one journey every one hour.
Besides that, you can take flights from Jakarta to Silangit. Silangit was newly opened airport that laid 30 minutes from Tarutung and Siborong-borong, in the south side of Lake Toba. It means you can save 4 hours compare with Kualanamu Airport. From here, you can rent a car to Balige, Parapat, or Bakkara to see the Lake Toba and Samosir.
Parapat, the town by Lake Toba, is 176 km from Medan and can be reached in under 6 hours by public bus which has two routes: Medan-Parapat or via Medan-Berastagi.
Travel agents in Medan can also organize a rental car plus a chaffeur for you. Medan is an international gateway. A number of airlines fly daily between the Kualanamu Airport Medan and all major cities in Indonesia and international flights also go from Medan to Malaysia, Singapore and Thailand.
Once you arrive in Parapat, you can catch the ferry to Samosir Island. The ferry goes every hour and a half. The two landing points on Samosir are the traditional village of Tomok, or Tuk Tuk, where the islands hotels and restaurants are concentrated. If you are coming overland from the south via Bukittinggi and Tarutung there is a public bus available. 
Recommended Hotels in Lake Toba [More Hotels]
No booking fee and pay at hotel
(sponsored by Booking.com)
Images credit: Flickr jo3f, Steel Wool, Exotissimo Travel, Andrey Samsonov