Warning
: Use of undefined constant ICL_LANGUAGE_CODE - assumed 'ICL_LANGUAGE_CODE' (this will throw an Error in a future version of PHP) in
/srv/users/serverpilot/apps/feel-indonesia/public/wp-content/plugins/directory-extension-plugin/aitDirGallery/gallery.php
on line
134
Warning
: Use of undefined constant ICL_LANGUAGE_CODE - assumed 'ICL_LANGUAGE_CODE' (this will throw an Error in a future version of PHP) in
/srv/users/serverpilot/apps/feel-indonesia/public/wp-content/plugins/directory-extension-plugin/aitDirGallery/gallery.php
on line
135
Spectacular Lake Toba in North Sumatra has up to now mostly been viewed from its east side. Yet its southern shores are no less stunning and await your discovery. With the recent opening of the Silangit airport in these highlands, this beautiful area is now within easy reach. Dolok Sanggul, capital of the Humbang Hasundutan Regency in south Toba is your start to your exciting exploration. Located in the mountains, and blessed with frequent rainfalls, the area is cool at night and often also during the day.
What can we do in Humbang Hasundutan?
1. Stunning Bakara Valley
From west to east, the stunning Bakara Valley stretches along the southern shores of Lake Toba, taking the shape of a bowl. Easily reached from Dolok Sanggul, here the two swift-running yet shallow rivers course through the valley, pouring out into a lake. The rivers named Aek Silang and Aek Simangira, both cascade from high cliffs. From a vantage point admire the beautiful scenic view onboth the valley and the lake: a truly thrilling experience.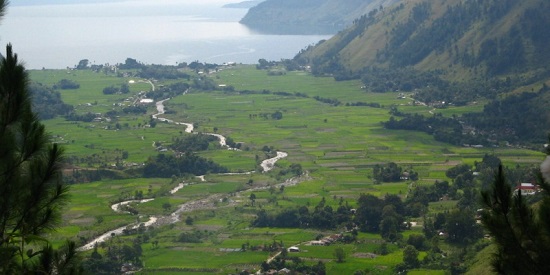 Pemandangan Lembah Bakara Humbang Hasundutan
2. Getting drenched in The Binanga Janji Waterfall
Nestled among villages surrounding the Bakara Valley, sits one of the most spectacular sights that nature has to offer as you discover the Dolok Sanggul-Binanga Janji Waterfall. Janji is one of the most beautiful waterfalls around Lake Toba, located by the village of Tipang. The rush of water gurgling and splashingover stones will fill your ears. This 20-meter high waterfall continues to impress over the year.
After seeing or taking a bath at Janji Waterfall, you can try traditional baked fish near Janji or Tipang Mas Restaurant with the direct view to the beautiful Lake Toba.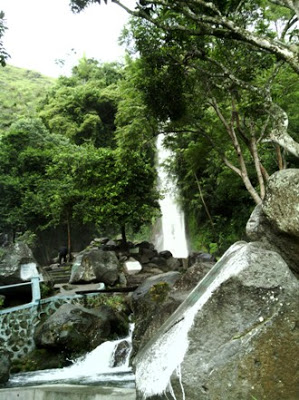 Air terjun Janji Binanga Janji Humbang Hasundutan
3. Sipping the Original Lintong Coffee
To keep you alert and active while exploring Lake Toba, is a good cup of coffee.The island of Sumatra, and in particular North Sumatra, is known for a variety ofdelicious coffees, namely the Sidikalang Coffee, Mandailing Coffee and Lintong Coffee. Lintong Nihota, which forms part of the Humbang Hasundutan Regency, is a small town that has become synonymous with the entire southern part of Lake Toba area and therefore, most of the coffee from the southern shores is soldbearing its name. Sumatra's unique Lintong coffee taste gains much of its unique character from its processing methods, which involves a partial wet-process followed by a three stage drying cycle that "cures" the unroasted beans. Thisprocessing method creates an earthy aroma with a balance of sweet and bittersweet taste that is so special to Lintong coffee.
4. Trying Exotic Food
Traditional Toba cuisine is predominately made up of freshwater fish that live in rivers or in Lake Toba, while a popular dish that is considered a must to try, is The Spicy Hot Pickled Grass Carp (called Andaliman). The dish is comprised of a fermented fish product popular in the Batak community called Naniura (meaning raw fish). The processing method of Naniura, begins with eviscerating then washing the fresh fish. The cleaned fish is fully soaked in lemon juice (asam jungga), then mixed with condiments that include onions, ginger, turmeric, and galangal. The fermentation process takes about 1-4 hours. Traditionally, Naniura was made from the increasingly rare fish (Neolissochilus thienemanni), a species found exclusively in Lake Toba. Nowadays, the common Carp is used instead. Once exclusively served to the King, it is now a typical meal served at most traditional events.
Dolok Sanggul is definitely worth your visit. The fantastic sceneries demand your attention as well as its breathtaking nature that will leave you searching for words. Dolok Sanggul is your best option to enjoy the best views of Lake Toba. The placeis less crowded but is still close enough to visit Samosir Island, the heart of the Batak culture and traditions. Spending time here trekking around the neighborhood or lazing around just doing nothing in the lovely cold weather whilesnuggling up to a lovely view, this the sort of tranquility that you'll find at Dolok Sanggul.
How to get there?
The easiest way to reach Dolok Sanggul is to fly to Silangit Airport at Siborong-Borong, by direct flight from Jakarta, or Medan, capital city of North Sumatra. From Silangit it takes around 30 minutes to Siborong-borong or Lintongnihuta, or 1 hour by taxi or rental car to Dolok Sanggul. The official taxi counter is located outside the arrival hall. The cost for the taxi to Dolok Sanggul from the Silangit Airport is IDR 200.000.
Recommended Hotels in Ubud
Dolok Sanggul has many accommodation options. All hotels are mostly located along the main road in the down town area of town. Hotel rates vary between IDR 200,000 to IDR 500,000. Bargaining is allowed here.
Grand Maju Hotel
Jl. Merdeka Ujung, Dolok Sanggul, Pasaribu, Phone: +62 633 2348857
Hotel Bersama
Jl. Merdeka , Dolok Sanggul Jl. Merdeka Ujung, Phone: +62 633 319831.
Recommended Hotels near Humbang Hasundutan [More Hotels]
No booking fee and pay at hotel
(sponsored by Booking.com)
Images credit: Flickr