Warning
: Use of undefined constant ICL_LANGUAGE_CODE - assumed 'ICL_LANGUAGE_CODE' (this will throw an Error in a future version of PHP) in
/srv/users/serverpilot/apps/feel-indonesia/public/wp-content/plugins/directory-extension-plugin/aitDirGallery/gallery.php
on line
134
Warning
: Use of undefined constant ICL_LANGUAGE_CODE - assumed 'ICL_LANGUAGE_CODE' (this will throw an Error in a future version of PHP) in
/srv/users/serverpilot/apps/feel-indonesia/public/wp-content/plugins/directory-extension-plugin/aitDirGallery/gallery.php
on line
135
Losari Beach is very famous among people in Makassar and domestic tourists. The beach is located in the west of Makassar, and become an icon and popular tourism spots in Makassar. Losari Beach's sometimes called as pseudo-beach, because it does not have sand and you can't swim here. Despite of that, Losari Beach has special uniqueness that you can see a beautiful view of the sunrise and sunset in one place. But the most important thing is, this beach is located in the city center, so you don't need to travel for a distance for enjoying the sceneries. While waiting for the beautiful sunrise or sunset, you can enjoy the variety of seafood, such as lobsters, squids, and crabs. Please don't be afraid, because all of the prices is very affordable here. What can we do in Losari Beach? Let's find out!
What can we do in Losari Beach?
1. Enjoy beautiful sunset
You can sit around, seeing waves and enjoy the wind. Losari Beach is very popular during 15.00 to 20.00, while most of the young people and tourists come to enjoy sunset here, and then enjoy a seafood dinner with a nice night illuminations. Makassar City Government also provides several internet hotspots here, so you are connected to internet and freely upload your pictures to your Facebook or Instagram accounts.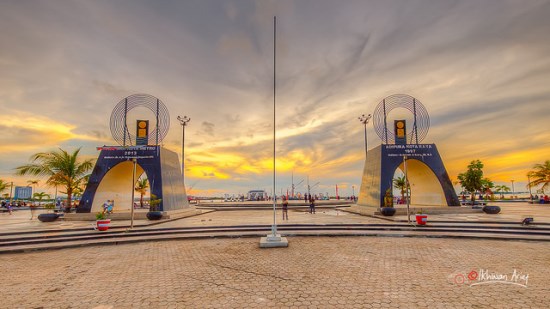 Losari Beach in the afternoon
2. Try fishing or water sport here!
Swimming is prohibited because the water is so deep. But, you can enjoy several water sports like boats, water bikes, and banana boat. Fishing is also very popular here, you can rent fishing equipment at nearby shops.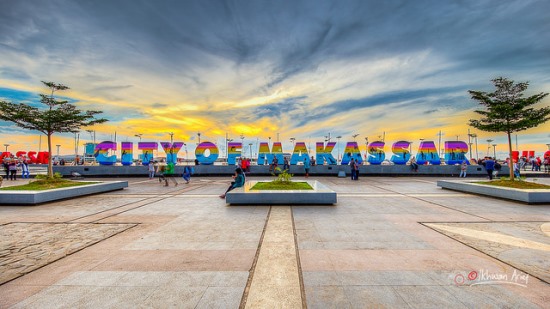 Losari Beach in Makassar South Sulawesi
3. Visit the Floating Mosque Amirul Mukminin
Mosque Amirul Mukminin was called as floating mosque because built above the sea. This mosque has two towers and two domes with Bugis (the area Makassar is situated) architectural design. With the majority Moslem population in Makassar, a lot of people will come to this mosque during the praying time, especially in maghrib (around 17.30-18.00). You can see this mosque at the southern end of Losari Beach. During night time, you can see the mosque with beautiful night illuminations.
4. Eat delicious seafood and traditional cuisine
This beach is known as the local culinary center of seafood and grilled fish at night (because the sellers and traders operate only at night). One of the most famous Makassar snacks that sold in food stalls was Pisang Epe (grilled unripe bananas), mixed with brown sugar syrup. Besides that, for you seafood-lovers, you can enjoy fishes, lobsters, squids, and crabs.
5. Enjoy new years in Losari Beach
During New Year's Eve, you can enjoy the celebration together with local people in Losari Beach or Akkarena Beach. There are music and dance performances and fireworks festival that was held here.
New years at Losari Beach Makassar
How to get there?
From Sultan Hasanuddin Airport, you can take ojek (motorcycle taxi) that costs around 20.000-50.000 rupiahs to Losari Beach. Besides that, you can take taxi that costs around 70.000-10.000 rupiahs depend on the traffic. You can enter this beach free (without paying any tickets).
Recommended Hotels near Losari Beach Makassar [More Hotels]
No booking fee and pay at hotel
(sponsored by Booking.com)
Images source: Flickr Ikhvan, Ikhvan, Zulkarnaen Gobel, Hanantha Soelarso