Warning
: Use of undefined constant ICL_LANGUAGE_CODE - assumed 'ICL_LANGUAGE_CODE' (this will throw an Error in a future version of PHP) in
/srv/users/serverpilot/apps/feel-indonesia/public/wp-content/plugins/directory-extension-plugin/aitDirGallery/gallery.php
on line
134
Warning
: Use of undefined constant ICL_LANGUAGE_CODE - assumed 'ICL_LANGUAGE_CODE' (this will throw an Error in a future version of PHP) in
/srv/users/serverpilot/apps/feel-indonesia/public/wp-content/plugins/directory-extension-plugin/aitDirGallery/gallery.php
on line
135
Mount Bromo is not only about the mountain or sand dunes, or magical temple in the center of the caldera. Mount Bromo is also popular as the best spot for star trails or star gazing. While most of the people start to hike Mount Bromo at 03.30 to reach the sunrise at 05.30, Milky Way over Mount Bromo appears every night at around 01.00-04.30 at the dawn, when the sky is still dark and fewer people walk in Mount Bromo Caldera. Why Milky Way over Mount Bromo is so beautiful and clearly seen? This is the information for you who want to see Milky Way over Mount Bromo.
Mount Bromo Surrounding Area
Mount Bromo caldera (often called Tengger Caldera) is extremely big caldera with diameter 10 kilometers. Inside the caldera we can find the mystical temple and the stairs to the crater. We can also see the Mount Batok and sea of sands everywhere. The ground is fully covered with sands which can not hold the water well, and most of the vapor is evaporated during the noon. As the results, the weather in Mount Bromo is usually dry and not to much fogs. And this condition keeps visibility distance, so we can see even Milky Way over Mount Bromo.
The temperature around Mount Bromo is between 18– 21 celcius at day time, but falls until 5-10 celcius at night. Even though the temperature is a little bit higher than Mount Semeru (the highest volcano in Java Island at 3,676 meters above sea level), you must prepare your jacket and clothes to keep you warm over the night.
Best Spots for View Milky Way over Mount Bromo
1. Bukit Mentingen or Mentigen Hill
Bukit Mentingen is located at 2,200 meters high above sea level, on the high peak at the northern side of Lava View Lodge. This hill is normally used as a camping ground since there is a wide space proper for star trails or star gazing.
2. Gunung Penanjakan Mount Pananjakan (the highest peak in Mount Bromo)
Gunung Penanjakan is situated at the northern side of Mount Bromo Caldera. This place is also popular for sunrise moments and main destination in Mount Bromo, since this spots is the highest point for seeing the Mount Bromo caldera . At the top points, there is no place for camping like in Bukit Mentingen, only small kiosks serving local food stores, hot drinking like coffee or tea.
The beautiful night panorama over Mount Bromo
3. Bukit Kingkong or Kingkong Hill
Kingkong hill is also good spot to view Milky Way over Mount Bromo Milky Way. This point is located near Gunung Penanjakan, 400 meter lower. Bukit Kingkong has flat wide space for camping and with some kiosks serving local foods and drinking stores.
4. Bukit Cinta or Love Hill
Bukit Cinta also becomes one of the best option to see Milky Way over Mount Bromo since it has flat wide space. However, you had to go up further to the west for about 15-20 minutes through steeper way to go to Bukit Cinta. This is the farthest spot for see Milky Way over Mount Bromo if you go from the northeast city Probolinggo.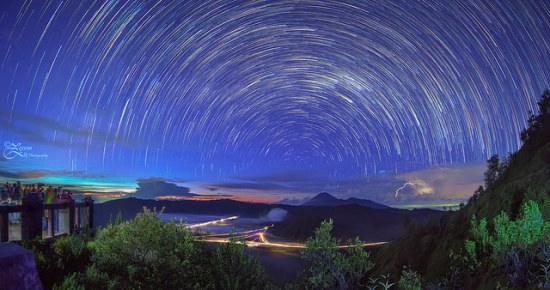 Starry sky above Mount Bromo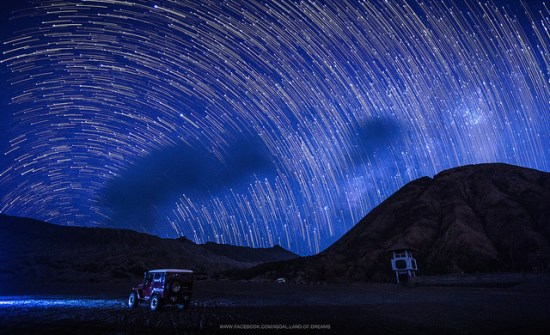 Starry sky from Mount Bromo sea of sands
The Best Time to enjoy Milky Way over Mount Bromo
If you want to see Milky Way over Mount Bromo, the best time is between 01:00-04:00 in the morning, when the weather is sunny without clouds. You should better go in the dry season in Indonesia between April to September. You can stay at the nearest lodging in Mount Bromo and start hiking from the night at 12.00, to get the best spot for seeing Milky Way. After the dawn break, you don't need to hurry as you can also enjoy the sunrise over Mount Bromo.
Recommended Hotels near Mount Bromo [More Hotels]
No booking fee and pay at hotel
(sponsored by Booking.com)
Images credit: Flickr Zexsen Xie, iGoal KWPHOTO, Andy Rachmad, BP Chua