Warning
: Use of undefined constant ICL_LANGUAGE_CODE - assumed 'ICL_LANGUAGE_CODE' (this will throw an Error in a future version of PHP) in
/srv/users/serverpilot/apps/feel-indonesia/public/wp-content/plugins/directory-extension-plugin/aitDirGallery/gallery.php
on line
134
Warning
: Use of undefined constant ICL_LANGUAGE_CODE - assumed 'ICL_LANGUAGE_CODE' (this will throw an Error in a future version of PHP) in
/srv/users/serverpilot/apps/feel-indonesia/public/wp-content/plugins/directory-extension-plugin/aitDirGallery/gallery.php
on line
135
One of the natural panoramas you can find on the Mount Bromo visit are the sand dunes in Mount Bromo big caldera. Actually nothing special about sand dunes, since these phenomena occur throughout the world, from coastal and lakeshore plains to arid desert regions. One thing that makes Mount Bromo Sand Dunes unique is that this sand dunes are inside the volcano caldera! The caldera of Mount Bromo is so huge, with three tops Puncak Batok, Puncak Semeru, and the crater of volcano that we even forget that we are inside the volcano caldera.
The sun begins to show the power of its light. Blowing wind blew the dust of sand that spread wide. At that time, the time was still showing at 08.00 pm. But the sunlight was already very hot here in Bromo. The air temperature is about 35-38 degrees.
I can feel the sand as the cars Bromo Jeep enter the Bromo area, much like the Paris-Dakar rally arena, especially when you came at dry season. Glasses and masks became a "safety-one" that you should wear.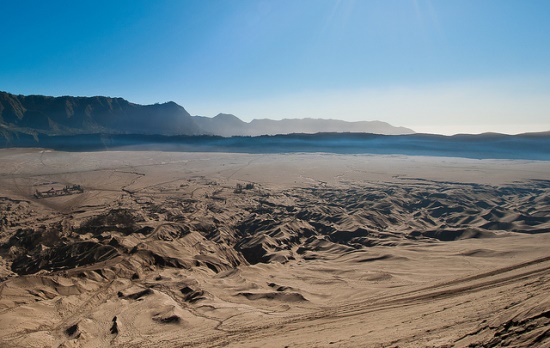 Mount Bromo Sand Dunes Panorama
Sand dunes in Mount Bromo is a tourist place located in the mountain Bromo, whispering sand is located east of the crater of Bromo. We can see the unique sand dunes at an altitude of 2000 meters above sea level. Whispering sand is often used as part of Bromo tour package, usually this place visit is done at the end of a trip after visiting three other attractions such as, peak climb to saw sunrise, then see the activity of Bromo crater, and watching the picturesque savanna grassland.
Beginning of the sand dunes history, is the name of whitewashing sand associated with a movie made by a famous Indonesian director named Garin Nugroho. He is the first director who created the origin of the Whispering Sand (Pasir Berbisik in Bahasa). In this place he made a shooting location of a movie whose title is sand whispered. They called "whispering sand"–because in this place if the wind is blowing hard, the roar of the wind will bring the grains of sand like a whisper something. The sound of the whisper will be heard clearly during the dry season that makes the desert dry. Since then the sea of ​​sand in the tourist area of ​​Bromo is known by the name of whisper sand.
Enjoying the charm of whisper sand is not so difficult. From Bromo area, you can rent Jeep Bromo, and tell the driver to go to pasir berbisik. Actually, the main itinerary in Bromo are: enjoy the sunrise at the peak of Penanjakan, then go to Mount Bromo to see directly Bromo crater, apart from that place, directly go to Padang Savanna Bromo and as a trip closing is visiting this whispering sand.


Take a jeep straight to the Bromo Caldera
Not only the sand dunes, Mount Bromo also has the bromomic savanna–an incredibly beautiful appeal. Rows of beautiful hills, a cool atmosphere that will make us feel at home for long in this savanna bromo. There's nothing wrong if you take a Tour Package and make both places become part of the package, so it will add an unforgettable impression when you are in the mountain bromo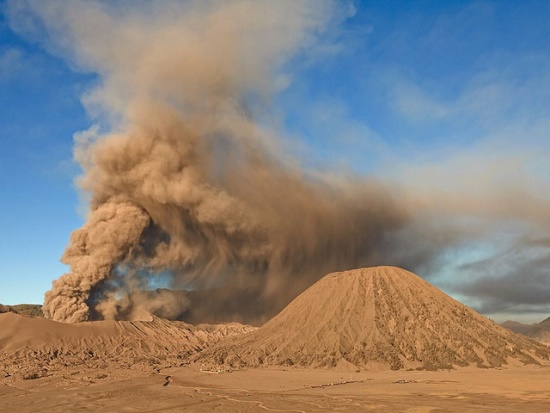 Crater smoke viewed from Mount Bromo Sand Dunes
Recommended Hotels near Mount Bromo [More Hotels]
No booking fee and pay at hotel
(sponsored by Booking.com)