Warning
: Use of undefined constant ICL_LANGUAGE_CODE - assumed 'ICL_LANGUAGE_CODE' (this will throw an Error in a future version of PHP) in
/srv/users/serverpilot/apps/feel-indonesia/public/wp-content/plugins/directory-extension-plugin/aitDirGallery/gallery.php
on line
134
Warning
: Use of undefined constant ICL_LANGUAGE_CODE - assumed 'ICL_LANGUAGE_CODE' (this will throw an Error in a future version of PHP) in
/srv/users/serverpilot/apps/feel-indonesia/public/wp-content/plugins/directory-extension-plugin/aitDirGallery/gallery.php
on line
135
Indonesia is rich with natural beauty: beach and sea, rice fields, national park, and also mountains. One of the most famous is Mount Rinjani Lombok. The third highest mountain in Indonesia (after Puncak Jaya in Papua, and Kerinci in Sumatera) is gaining its popularity among the beauty, wilderness, and breathtaking scenery. Mount Rinjani–together with its surrounding area called Mount Rinjani National Park–cover more than 100.000 hectares area in the north side of Lombok Island. In 2008, the Indonesian government proposed to UNESCO that Mount Rinjani be one of the world's official geoparks. Comes from behind, here is our story go to Mount Rinjani Lombok and Segara Anak crater lake.
What can we do in Mount Rinjani Lombok?
1. Enjoy the beauty of sunrise and night sky
The beauty of Mount Rinjani indeed can not be expressed in words. At morning we can see sunrise, at noon we can see the beautiiful landscape and breathtaking scenerry, and evening, the charm of Mount Rinjani always looks beautiful. Especially at night, where you will see the beauty of the star-studded sky. Hmmm … like a beautiful night sky covered with stars…what an unforgettable experience!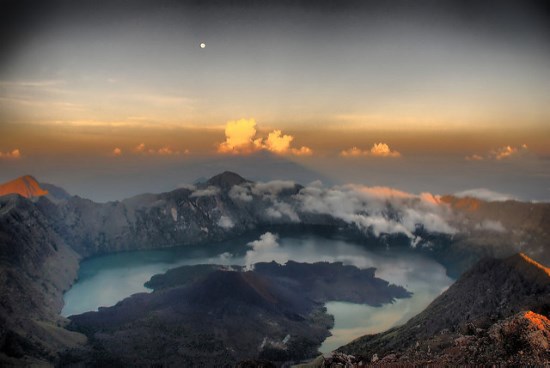 Sunrise at Mount Rinjani Lombok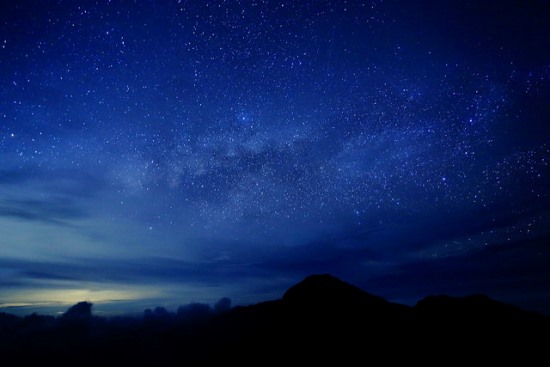 The night view at Mount Rinjani Lombok
2. Why don't stay in Rinjani Lodge?
It is recommended that you camp overnight, so you can catch the magnificent sunrise behind Rinjani. One of the best lodge in Rinjani that Feel-Indonesia Team reccomends was Rinjani Lodge where you can see supreme view of Mount Rinjani as your window view.
3. It's a greaaat view from Rinjani Summit
From the peak of 3.726 meters above sea level, I can see all sides of the island of Lombok, Mount Agung in Bali and even the island of Sumba from a distance! Standing at Rinjani summit, I can see the caldera view with a line of six kilometers! How great the God creates Rinjani!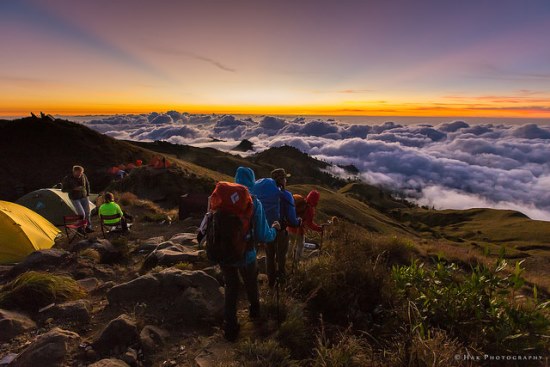 Mount Rinjani Trekking
4. See the Segara Anak, the mystical crater lake at Rinjani
Segara Anak lake is best view after you reach the summit. The easiest route to see Segara Anak is from Plawangan Lawang (the Sembalun route). Segara Anak Lake is located at an altitude of 1700 meters above sea level. The route to this place is quite dangerous, because a lot of rocks and sand. Our Journey from Plawangan to Segara Anak is like travel to the ancient times, just like the Dinosaur World, haha.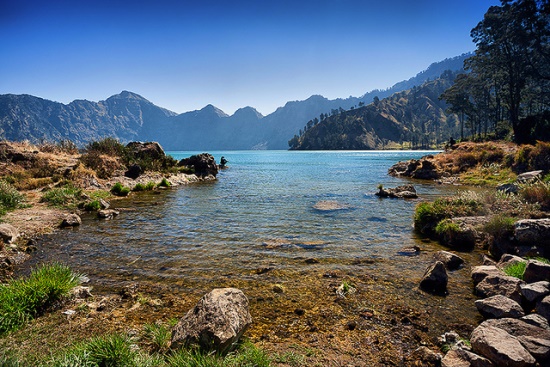 Lake Segara Anak in the crater of Mount Rinjani Lombok
During our trip to Segara Anak, we can enjoy the natural hot springs, where we can stop and rest for a while. Rinjani is full of surprises! Sunset view near Segara Anak is very beautiful.
Ticket Information
We need to pay around 150.000 rupiahs (13 dollars) per person to enter the Rinjani Mountain National Park that covers Rinjani ecotourism trekking program and hiking route maintenance.
How to get there? (If you want to reach the summit Mount Rinjani Lombok)
There are three main routes to the top of Rinjani, from Senaru Village, Sembalun Lawang, and Torean. Senaru is the easiest way but it has savanna route which has very hot temperature. You should bring enough drink if you take the Senaru route. Torean route, giving us unique panorama, like Penimbung Falls, Segara Anakan Lake, and natural hot spring.
Most visitors choose Senaru on the north side of Rinjani. Senaru is the most populated check-in point with many resorts area and Sengigi Beach. Sembalun Lawang (height 1.150 meters) is on east side which is closer to reach the summit. Both villages are accessed from the main north coast road that connected to Mataram.
If you want to hike and reach the Rinjani summit, you need a waterproof and windproof jacket, head lamp with its battery, hiking boots/ shoes, and also walking sticks. Near the summit (last 1.000 meters), you can find a lot of scree or loose rock also the (dangerous) valley in the route. For your information, after the heights of 2.500 meters, Rinjani will gives us natural and weird phenomenom. Sometimes rain falls and just after that sun shines, the climate become wet and the temperature goes down up to 0-4 degree of celcius, which can make us very easy to feel hypothermia.
Read also: How to reach Lombok
Recommended Hotels near Mount Rinjani [More Hotels]
No booking fee and pay at hotel
(sponsored by Booking.com)
Images credit: Flickr nicolas.bremard, yazee_harun, Hak Liang, skyseeker, hasmanizam