Warning
: Use of undefined constant ICL_LANGUAGE_CODE - assumed 'ICL_LANGUAGE_CODE' (this will throw an Error in a future version of PHP) in
/srv/users/serverpilot/apps/feel-indonesia/public/wp-content/plugins/directory-extension-plugin/aitDirGallery/gallery.php
on line
134
Warning
: Use of undefined constant ICL_LANGUAGE_CODE - assumed 'ICL_LANGUAGE_CODE' (this will throw an Error in a future version of PHP) in
/srv/users/serverpilot/apps/feel-indonesia/public/wp-content/plugins/directory-extension-plugin/aitDirGallery/gallery.php
on line
135
Lombok island is located east of Bali. Nowadays, Lombok and Gilis started to become the alternatives for nature and beach lover tourists besides Bali. Just like Bali, tropical climate with warm and humid weather can be enjoyed in Lombok all year. Temperature ranges from 21 Celsius to 32 Celsius (quite hot for you who comes from Americas or Europe). And the best time to come is in the month of May when the weather is just perfect with bright daylight and green scenery. Here is the Lombok Travel Guide, summaried from guide locals.
Lombok Travel Guide: What can we do?
1. Visit the number one place in Lombok Gili Trawangan
One of the favorite attractions of tourists is a tourist attraction Gili Trawangan. Gili Trawangan is the heart of tourist in Lombok. Here, we can enjoy the sunset and sunrise! This happens because of Gili Trawangan has a beach facing east and also west, and the distance is not too far away. Besides that, you can enjoy diving, snorkeling, or boat tour here with a nice coral reef view.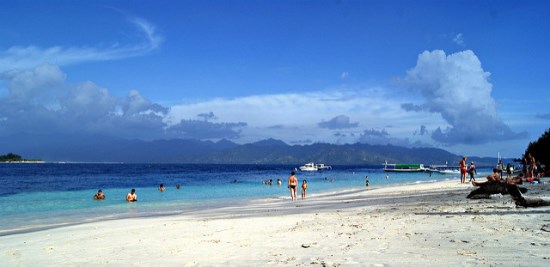 Beautiful beach in Gili Trawangan Lombok
2. Visit other Gilis
Although Gili Trawangan is the most famous one, you can enjoy the other beautiful Gilis, like Gili Air, Gili Meno, Gili Nangu, Gili Sundak, and Gili Tangkong. Nice and beautiful beaches combine with white blue sky and humble local people will delight your journey in Lombok. The other Gilis also has beautiful diving spots that will give pleasant underwater panorama.
Mount Rinjani is Indonesia's third highest mountain (3,726 m), with its mythology of the existence Anjani Goddess, the princess of Rinjani. The best season to climb Mount Rinjani is April to December. But this route is closed from January to March due to heavy rain. The last eruption was in 2010, but please do check the volcano activity and weather forecast before any summit attempt. There are three main routes to the top of Rinjani, from Senaru Village, Sembalun Lawang, and Torean. Senaru is the easiest way but it has savanna route which is very hot. Torean route, giving us more unique panorama, like Penimbung Falls, Segara Anakan Lake, and natural hot spring.
It is recommended that you camp overnight, so you can catch the magnificent sunrise behind Rinjani. One of the best lodge in Rinjani that Feel-Indonesia Team reccomends was Rinjani Lodge where you can see supreme view of Mount Rinjani as your window view.
There are several hiking tours in Lombok, started from 2-day package to 5 days depends on the route. You can ask your hotel staff for further information.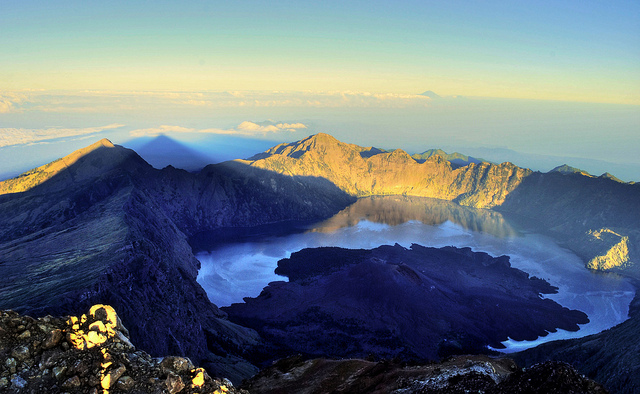 Mount Rinjani and the crater lake Lake Segara Anak
4. Buying unique souvenirs from Lombok
Lombok has great woven textiles like songkets and ikats that can be used as a sarong, wall hanging, table cloth and more. The design woven is special to each weaver and it is passed down through the generations before. There is a traditional hand weaving village in Puyung, central Lombok. You can even try on a traditional Sasak costume. Besides that, pottery is also famous as souvenir here. Lombok pottery has gained popularity and is shipped throughout the world. You can go to Banyumulek (West Lombok), Penujak (Central Lombok) and Masbagik (East Lombok).
Lombok Travel Guide: Travel Tips in Lombok
If you are planning on traveling around the island and visiting small villages it is more respectable to wear slacks or knee-length shorts, a shirt with sleeves or a sarong. During Ramadan, which is the Muslim month of fasting, please do not to eat, drink or smoke out in the open public. Even though the people don't seem bothered in the common tourist areas like, Senggigi and the Gili islands, it is better to respect the people and not eat or smoke publicly.
When changing money there are many money changers in Lombok. The best rates are usually in Senggigi. Money changers prefer new, clean large bills and will accept smaller denominations at a lower rate. If you have traveler's checks the rate will be less than bank notes. Please alway re-count the money in front of the money changer reception or cashier, while it was a quick tricky way to can steal your money.
Lombok Travel Guide: How to get there?
You can visit this island paradise through various transportation, such as air, sea, and land. Generally, Lombok can be reached from the major cities in Indonesia such as Jakarta, Bandung, Semarang, Surabaya, Medan, and Bali through the air. While the nearby island such as Bali or Sumbawa, a trip to Lombok can be reached by ferry or speedboat.
The easiest way to go to Lombok is by air. The newly Lombok International Airport (LOP) is located in Pujut District in the Central Lombok, around 40 kilometers to Mataram, the capital and the biggest city in West Nusa Tenggara. The flights will cost around IDR 800.000 or around 60 dollars.
There are regular daily flights from Bali, Jakarta, Surabaya, Makassar, Sumbawa, Bima (East Nusa Tenggara), also direct flight from Kuala Lumpur (Malaysia) and Singapore.
Read also: How to get to Lombok
Travel Around Lombok
Renting a car is a good alternative to get around Lombok, either self-driving or with the driver so you can relax and enjoy the view (tip driver pocket money for meals is needed if you stop for lunch or dinner, minimum 25.000 rupiahs). Please make sure you have and bring your International Driving License if you choose to rent a car or motorcycles and drive yourself.
Motorcycles are a convenient and inexpensive way to get around the Island, but tourists are frequently injured in the motor bike accident. If you rent a bike, drive slowly and very defensively. Helmets are required by law but those provided by rental agencies offer little protection.
Recommended Hotels in Lombok [More Hotels]
No booking fee and pay at hotel
(sponsored by Booking.com)
Images credit: Flickr Andrea Merlin, hasmanizam, nicolas.bremard