Warning
: Use of undefined constant ICL_LANGUAGE_CODE - assumed 'ICL_LANGUAGE_CODE' (this will throw an Error in a future version of PHP) in
/srv/users/serverpilot/apps/feel-indonesia/public/wp-content/plugins/directory-extension-plugin/aitDirGallery/gallery.php
on line
134
Warning
: Use of undefined constant ICL_LANGUAGE_CODE - assumed 'ICL_LANGUAGE_CODE' (this will throw an Error in a future version of PHP) in
/srv/users/serverpilot/apps/feel-indonesia/public/wp-content/plugins/directory-extension-plugin/aitDirGallery/gallery.php
on line
135
Sanur Beach Bali was the first beach resort that developed at Bali. It features a relaxed coastal ambiance over five kilometers with the great view of sunrise and sunset. Located on the eastern side of the south Bali Island, Sanur Beach is a transit before we go to Nusa Lembongan, Nusa Ceningan, or Nusa Penida by ship or speedboat. Sanur Beach has a lot of seashore restaurants and accommodation, providing much quiet and relaxed feeling compared to Kuta Beach. Besides that, Sanur Beach is rich in arts and culture, making it an ideal destination to enjoy the best of both nature and cultural attractions, also classic and contemporary arts.
What can we do in Sanur Beach Bali?
1. Walk around the long coastline
Sanur is a great place to enjoy a walk over the sand or by bicycle in the paved-road. Several museums and galleries such as the Le Mayeur Museum, Seiki Torige's Open Space Gallery, Griya Santrian Gallery and Darga Gallery were located near the seashore. Sanur Beach was the first developed tourism destination in Bali, but since the development of Kuta, Nusa Dua, and Tanjong Benoa, Sanur Beach becomes less visited by the tourists. So if you want enjoy the view of sea without too much crowd, Sanur was a good place. From a distance, we can see the Gunung Agung and Nusa Lembongan Island.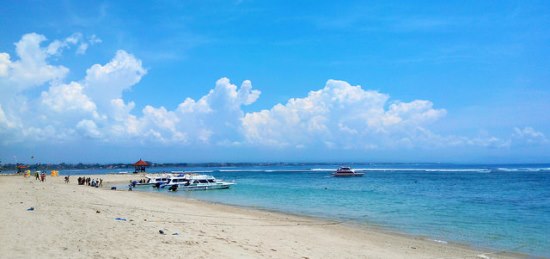 White sandy Sanur Beach Bali
As well as shopping and eating, almost spots here was a great photo spots. The local night markets are very nice, giving you the dinner experiences with wind and sound of wave.
2. Swimming and playing water sport
Sanur beach is like a giant saltwater pool, the temperature was warm, around 25- 32 degree of celcius. It makes the beach suitable for children and families. Besides swimming, you can try kite surfing, windsurfing, wake boarding, surfing, sea-kayaking, or paragliding. If you want to try something calm and relaxed, you can join traditional boat ride around the coastline.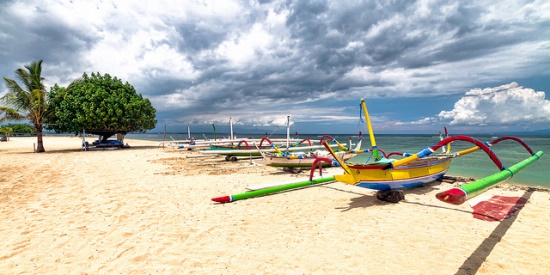 Tradisional boat at Sanur Beach Bali
3. Visit Blanjong Temple
Blanjong Temple or Pura Blanjong (in Bahasa Indonesia) was located in south of Sanur. In this place, we can see historic stone pillar called the Prasati Blanjong. Prasasti or inscription here was the oldest one that Bali has, and tells us about Bali's first formal government around 10th century, wow!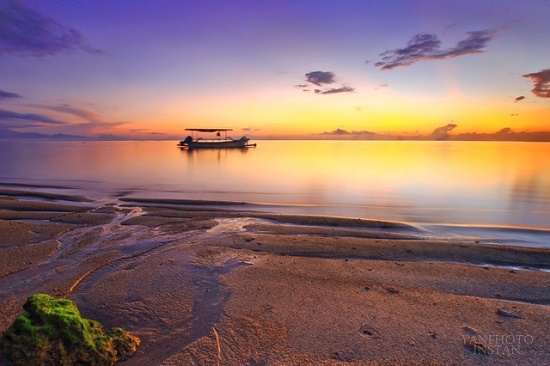 The best view of Sanur Beach Bali
How to get there?
You can take a taxi from Ngurah Rai International Airport to Sanur Beach. It costs around 150,000 rupiahs, and may be more if you take the toll road. You can find a lot of taxis all over the island if you want to go to Sanur.
If you are driving yourself, this is one of the more straightforward areas of Bali to find as the main Bypass Ngurah Rai road is the western boundary of Sanur. There are many well signposted exit points from this main road into the heart of Sanur. If you want to go to Sanur, you can drive around 20 minutes driving time from Kuta or Legian, or 30 minutes from Seminyak or Ubud.
There are several boats from Nusa Lembongan or Nusa Penida arrive at the beach at the end of Jalan Hangtuah, in the center of Sanur Beach.
Read also: How to get to Bali
Recommended Hotels in Sanur Beach Bali [More Hotels]
No booking fee and pay at hotel
(sponsored by Booking.com)
Travelers who viewed Bali also viewed…
Images source: Flickr Christian Lee, Thomas Schmitz, mangku kartika, arya putra