Warning
: Use of undefined constant ICL_LANGUAGE_CODE - assumed 'ICL_LANGUAGE_CODE' (this will throw an Error in a future version of PHP) in
/srv/users/serverpilot/apps/feel-indonesia/public/wp-content/plugins/directory-extension-plugin/aitDirGallery/gallery.php
on line
134
Warning
: Use of undefined constant ICL_LANGUAGE_CODE - assumed 'ICL_LANGUAGE_CODE' (this will throw an Error in a future version of PHP) in
/srv/users/serverpilot/apps/feel-indonesia/public/wp-content/plugins/directory-extension-plugin/aitDirGallery/gallery.php
on line
135
If your vacation in Bali with the kids, please do not forget to visit Bali Safari Marine Park. Due to tourist attractions in Bali, provide the best safari experience for you and your child. This place provides us both zoo and aquarium experiences, where wildlife animal lives in its natural habitat combines with a great pleasure night safari and nice attractions with the animals. The nice thing is, Bali Safari Marine Park building has a great accent of Balinese culture and is suitable for a visit for all ages.
Bali's most realistic safari experience takes you on a journey to discover the inhabitants of Indonesia, India and the African Savannah. See wildlife living naturally together in 40 hectares of park, specially landscaped to imitate natural habitats.
What can we do in Bali Safari and Marine Park?
1. See a great variety of animals here
Animals living in Bali Safari Marine Park divided into three regions (Indonesia, India, and Africa region). We can see more than 400 animals among black-winged starling, owl, bears, tigers, lions, deer, Himalayan bears, nilgai, black buck, hippopotamus, zebra, camels, ostrich, baboon, wildebeests, and also crocodiles. In the marine area, we can see piranhas and many other fishes here. Oh before I forget, we can see Piranha Feeding Frenzy (where piranhas eat a chicken less than five minutes) on 10.30 and 16.00. Save your time!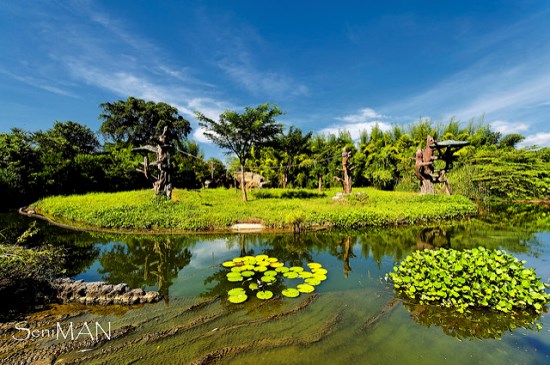 Garden in Bali Safari and Marine Park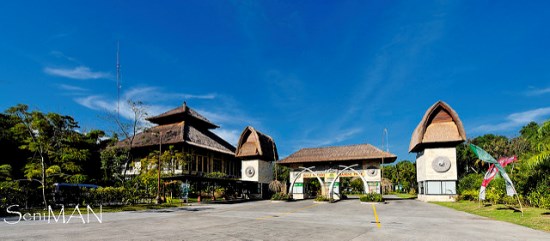 Bali Safari and Marine Park main gate
2. Touch the animals
We can touch animals in the Petting Zoo area. Your kids will be very happy when they can touch the guinea pigs, rabbits, and cats. Feel the texture of their skin and delicate feathers. Besides, there are free traditional Balinese dance lessons here! You can ask staff at the hut located near Uma Restaurant to learn the dance. It was available during 09.00 to 17.00.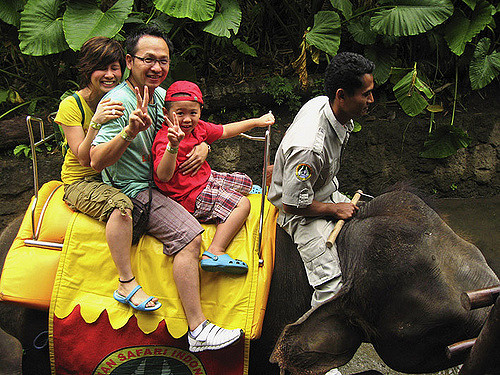 Riding an elephant in Bali Safari and Marine Park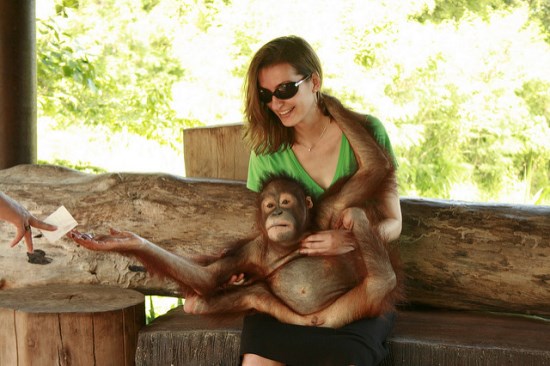 Interacting to orangutan in Bali Safari and Marine Park
3. Great combination zoo with traditional Balinese tradition
Bali Safari and Marine Park has many facilities, including animals in the natural exhibit, recreation area, waterpark, theater, safari lodges, restaurant, and souvenir shops. All of this area have a perfect combination of zoo, aquarium, and traditional Bali arts. We can learn Bali culture while we learning the animals.
Restaurant with the view of animal in Bali Safari and Marine Park
Buying Admission Ticket Now
Bali Safari and Marine Park
4. Playing rides in mini theme park inside
In Bali Safari and Marine Park, we not only enjoy zoo or aquarium, but also mini theme park too! You children can enjoy playing on Merry Go Round and Climbing Car, while your older kids will be excited to play rides. The most important thing, you can also try the flume ride, which sends you escalating down to a big splash!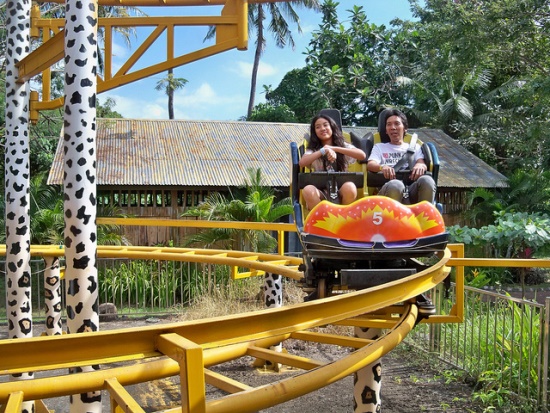 Rides in Bali Safari and Marine Park
5. Enjoy the unforgettable night safari journey
If you have enough time, you can join the Night Safari Journey. We will ride a cage-bus and bring a pack of foods for the animals, among carrots and fruits. The bus then will stop near the animal shelters between a dark night ambiance. Then the animal will come near the bus window after smelling the carrot. You can feed them elephants and zebras, which will gnaw on their little treats happily.
But, the most unforgettable moment in night safari journey here is where our cage-bus enter the tiger area. It was very dark! I can't see clearly, just little movements near the trees. Wow! The tigers come. They smell the meat that the park ranger bring. We can feel the their sigh and breath, even mouth salica closely. Wew! A really great great experiences!
6. Wanna stay in safari lodge as in African savanna?
For myself, Mara River Safari Lodgee is a very great concept. Started from April 1, 2008, we can stay overnight inside Bali Safari and Marine Park. If you plan to join night safari, maybe sleep in this lodge will be great deal. This lodge has a nice African theme interior design, completes with big animal pictures, sculpture, and traditional tribal fabrics. From the balcony in the second floor, we can see Rhinoceros, Zebra, or Elephant exhibit.
Just wake up in the morning (before 07.00), we will hear the lions roar and be greeted by the sound of birds conversing on the roof of your hut. After that, we can see the animal have their grazing-breakfast in front of us. We will ride the elephant to the Tsavo Lion Restaurant. We will have our breakfast with two lions walking around in front of us. Don't be panic, there is a glass that makes sure our safety, haha!
If you want to stay in the Safari Lodge, the price is started from 2,5-3 million rupiahs or 179 dollars for one family or a maximum 8-people in group.
Ticket Information
Ticket price per person are 150.000 rupiahs (14 dollars) per person includes Education and Conservation Program.
Buying Admission Ticket Now
Bali Safari and Marine Park
How to get there?
Bali Safari Marine Park is located 17 kilometers to the east of Denpasar or about 1 hour from Ngurah Rai Airport through By Pass Ngurah Rai By Pass and Prof Ida Bagus Mantra.
Recommended Hotels near Bali Safari Park [More Hotels]
No booking fee and pay at hotel
(sponsored by Booking.com)
Travelers who viewed Bali also viewed…
Images source: Flickr SeniMAN57, SeniMAN57, ps2607, tribu02, Walter Lim, Amalia Sari, Adinda Rizky