Warning
: Use of undefined constant ICL_LANGUAGE_CODE - assumed 'ICL_LANGUAGE_CODE' (this will throw an Error in a future version of PHP) in
/srv/users/serverpilot/apps/feel-indonesia/public/wp-content/plugins/directory-extension-plugin/aitDirGallery/gallery.php
on line
134
Warning
: Use of undefined constant ICL_LANGUAGE_CODE - assumed 'ICL_LANGUAGE_CODE' (this will throw an Error in a future version of PHP) in
/srv/users/serverpilot/apps/feel-indonesia/public/wp-content/plugins/directory-extension-plugin/aitDirGallery/gallery.php
on line
135
Nusa Penida is located in the southeast of Bali Island, behind Nusa Lembongan and Nusa Ceningan Island if you ride the boat from the main island. Nusa Penida has the hilly contour with a maximum altitude of 524 meters in Puncak Mundi. It is drier than the nearby island of Bali. With the area of 200 square kilometers, Nusa Penida is much larger than the famous Nusa Lembongan. But, as the time goes on, Nusa Penida started to attract more and more visitors. A lot of option of transportation from Sanur or Kusamba in the main island. Beautiful beach and unforgettable underwater experiences is Nusa Penida's main attractions, combines with the hospitality of local people. So, why don't you plan to visit Nusa Penida?
What can we do in Nusa Penida?
1. See the broken beach, Pasih Uwug
Pasih Uwug, also known as the broken sea, is a unique attraction in Nusa Penida in Atuh Beach. The natural stone arch is formed after ocean wave abrades the cave over centuries. You can also walk over the bridge and see Australia from the distance. Just beside Pasih Uwug, you can visit Angle's Billabong. Angle's Billabong actually is the river creek, where you can swim here also.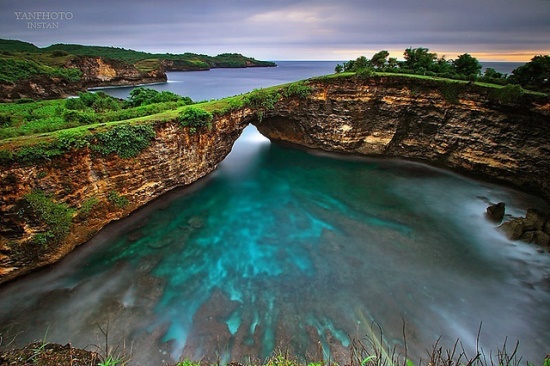 Pasih Uwug at Nusa Penida Bali
2. See the hidden underwater world
Nusa Penida underwater world was very beautiful, especially on the north side of the island. There are some very attractive coral formations with big coral blogs covered with gorgonias and other soft corals, providing excellent places to find coral fish and other marine life.
Dive site starts at three meters (very swallow!) where you can see beautiful soft and thriving hard corals and also a group of fish swimming into the current. Among the commonly spotted fish here you can see blue tooth triggerfish, sweetlips, fusiliers, jack fish, trevallies, banner fish, porcupine as well as scorpionfish, moray eels, and trumpetfish.
Go deeper and you can see mola-mola or Sunfish the unique fish that was endemic fish in Bali and Nusa Tenggara, if you are lucky. Besides that, you can see shark reef and Manta ray in Manta Dive Point in the south.
The magnificent underwater world in Nusa Penida Bali
3. Can't dive? you can see underwater using submarine
The underwater world under Nusa Penida is known as the best in Bali. But, ocean current here is quite strong and could be dangerous for amateur or first-time divers. But, don't worry about that, you can go to Quicksilver in front of Toyapakeh Village. This pontoon facility provides you safe underwater experiences with a stone blockade and also submarine. Go inside them and you will see the real "Nemo" (in Finding Nemo) habitats. If you stay in Benoa, you can join Quicksilver tours from Tanjong Benoa, just started from 570.000 rupiahs (45 dollars).
4. Playing and Swimming on the beach
There are several popular beach spots in Nusa Penida. Started from the northwest side, there is Toyapakeh, Crystal Bay, and Pandan Beach. Then Pasih Uwug, Kelingking Beach, and Manta Point in the west side. Suwehan and Atuh in the east side.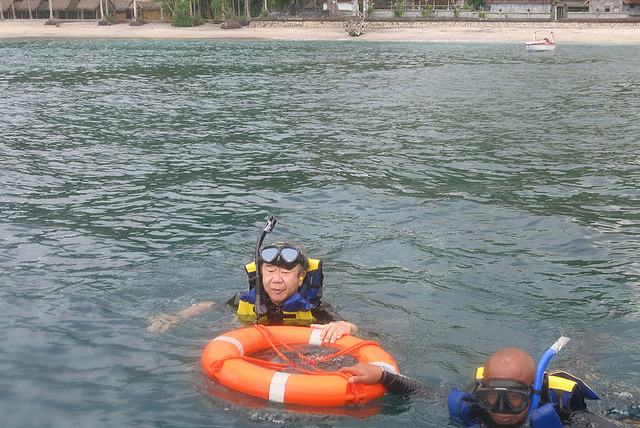 Snorkeling at Toyapakeh Nusa Penida
5. Visit the clear "Crystal" Bay
Surrounded by two headlands, Crystal Bay was a C-form beach. Crystal Bay or Batu Jineng became the most favorite place for many visitors both internationally and locally because here you can swim freely without any worries of the ocean wave or current. The C-form beach also make the underwater view here was very clear, makes this place truly "Crystal" as its name. You can also enjoy snorkeling, sunbathing, or see the sunset here.
6. Tembeling and peguyangan Water Spring
Tembeling and Peguyangan water spring are located in the southern part of Bali. You can go down through hundred of stairs to reach the hidden pond. Please be careful because some parts of the stairs already been rusty and broken. The nice thing is, water in this pond is not salty even it is near from the sea. This water spring is used as the water supply of Nusa Penida Island for a free. What a blessing!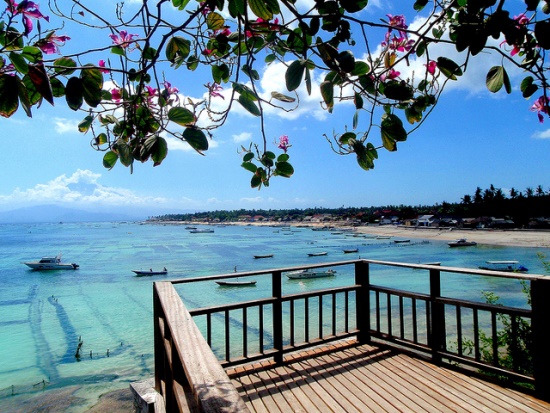 This is Nusa Penida Bali…
How to get there?
Nusa Penida is easily accessed from Sanur Beach in southwest Bali. From the Ngurah Rai International Airport, you can take a taxi to Sanur Beach with rates 125.000-175.000 rupiahs. Then from Sanur Beach, there are several transportation alternatives, ranging from the wooden motor boat (1.5-2 hours) to speed boat (30 minutes). These boats are available from 08.00 until 15.00, will bring you to Maruti, Ped, or Toyapakeh in Nusa Penida. The price range is from 50.000 to 175.000 rupiahs.
You can catch the daily public ferry (lthe only way to Nusa Penida if you want to bring your car) at 13:00 (1pm). A passenger ticket is Rp 31,000 each way. There is also a smaller private speed boat service departed at 06:30 to Nusa Penida. The ticket cost is 45.000 rupiahs (local) and 75.000 rupiahs (6 dollars) if you are foreigner. each way if you are Indonesian.
There is also public boats depart daily at 06:00 between Nusa Lembongan and Nusa Ceningan (near the suspension bridge) and run to Toyapakeh or Buyuk Harbour in northern Nusa Penida.
Nusa Penida is a small island, you can go around the island by using a motorcycle. It is easy to rent the motorcycle (started around 80.000-120.000 rupiahs, exclude the gasoline). You can visit the temples and of course beautiful beach here.
Recommended Hotels in Nusa Penida [More Hotels]
No booking fee and pay at hotel
(sponsored by Booking.com)
Travelers who viewed Bali also viewed…
Image source: Flickr mangku kartika, Ludovic, I komang wistawan, Welly Wirawan Susilo, Ludovic