Warning
: Use of undefined constant ICL_LANGUAGE_CODE - assumed 'ICL_LANGUAGE_CODE' (this will throw an Error in a future version of PHP) in
/srv/users/serverpilot/apps/feel-indonesia/public/wp-content/plugins/directory-extension-plugin/aitDirGallery/gallery.php
on line
134
Warning
: Use of undefined constant ICL_LANGUAGE_CODE - assumed 'ICL_LANGUAGE_CODE' (this will throw an Error in a future version of PHP) in
/srv/users/serverpilot/apps/feel-indonesia/public/wp-content/plugins/directory-extension-plugin/aitDirGallery/gallery.php
on line
135
Tirta Gangga literally means water from the Gangga river and it honors for the Balinese Hindu. This name refers to the water palace built in 1948 by the Raja of Karangasem, Anak Agung Agung Anglurah Ketut Karangasem. Later, the name widely used to refer to the general area which includes the water palace and the lush rural areas around. Tirta Gangga water palace is a maze of pools and fountains surrounded by a lush garden and stone carvings and statues. This 1,2 hectares complex was built in 1946 by the last King of Karangsem just after Indonesia Independence day in 1945. But, in the 1963, Tirta Gangga was destroyed almost entirely by the eruption of nearby Mount Agung in 1963. Goverment then re-built and restored this place with authentic royal magnificence. The centrepiece of the palace is an eleven tiered fountain with many beautiful carvings and statues adorning the gardens.
What can we do?
1. What a beautiful park in Tirta Gangga Bali!
Actually, there are three main things that we can enjoy in Tirta Gangga Karangasem: parks, ponds, and sculptures. The park is located in the middle of rice field and water in this park comes from the Rejasa springs. With abundant of water, Rejasa springs water is delivered to Amlapura (the capital of Karangasem) for household water. Until now, this beautiful park still belongs to the Kingdom of Karangasem.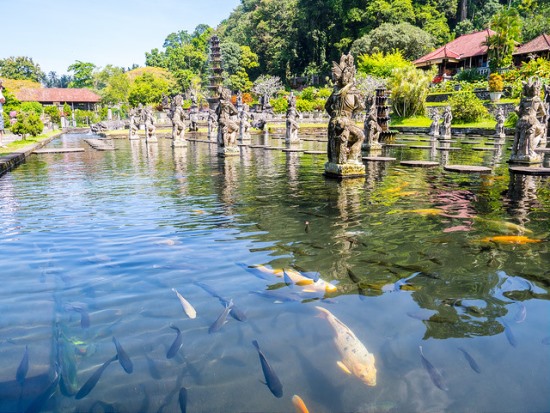 Big koi fish at the Tirta Gangga Bali
The area of the park Tirtagangga 1.2 hectares, which extends and stretches from east to west. There are three levels of the building in the park. The first level, we can see a spring under banyan tree. The second level of the building, there is a swimming pool and a building at the bottom there is an ornamental pond with a fountain.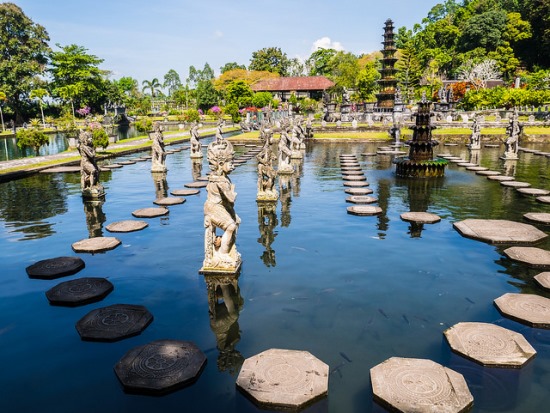 Many sclupture on the pond
2. Enjoy the lush scenery of stones, ponds, and beautiful bridge
From first entering the main gate, visitors will be greeted by some of the statues as if lined up like soldiers. Tourists can walk the road above the pond through the path made of stones arranged in an array that resembles a bridge. These stones are arranged in the form of hexagons. Besides being able to walk around the pond, visitors can also take pictures of images in selfie and pre-wedding. Part of this pool is most fitting to take a picture, because in addition to a natural pond view, statue sculpture in the pond will also beautify the background image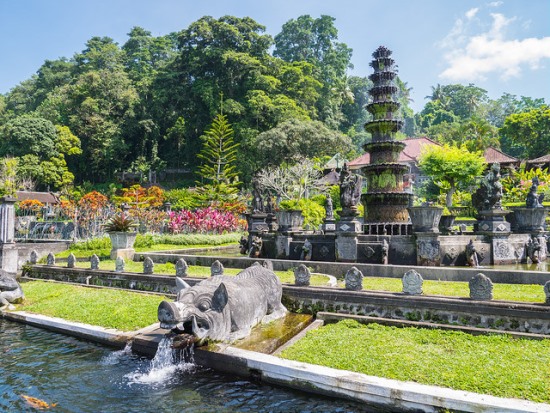 Statue and springs in Tirta Gangga Bali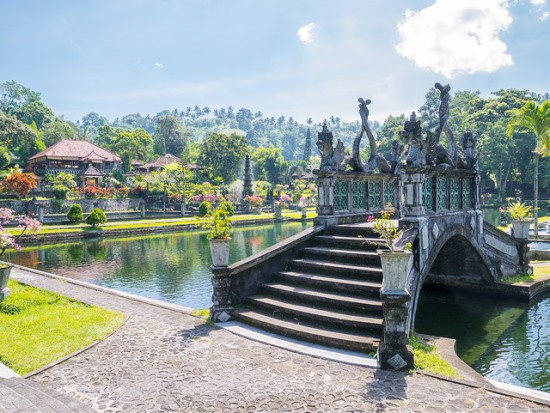 Bridge in the center of Tirta Gangga Bali
Not far from the main pool of Tirta Ganga, there is a small garden where in these places there is a water tower 10 meters high. The tower is shaped like a roof with many shape layers.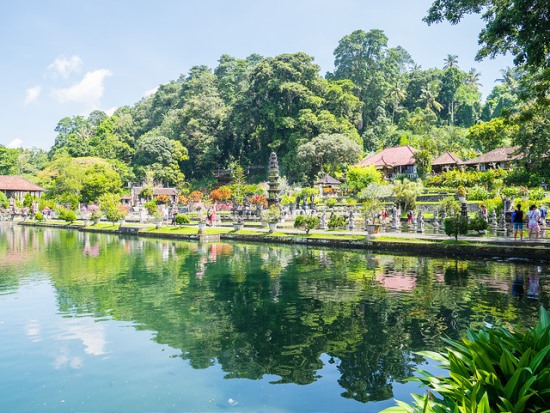 The huge pond of Tirta Gangga Bali
3. Why don't you try to swim here?
Besides the main pond with many statues inside, Tirta Ganga also has a swimming pool that allow tourists to swim there. The pool that can be used for swimming pool water is Sanih Pool. The water here is so clear, as it also comes from Rejasa springs. All swimsuits (bikini, burkini etc.) are accepted here.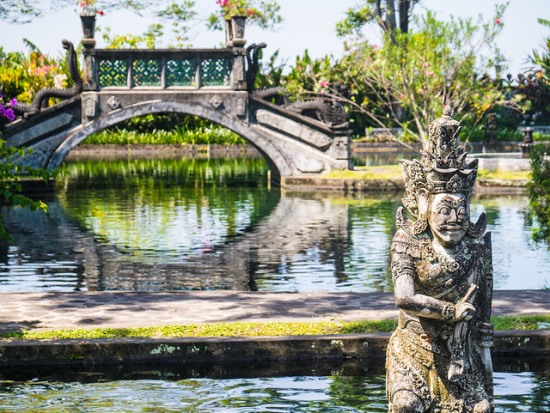 Bridge at Tirta Gangga Bali
4. Staying longer in Tirta Gangga Bali
The duration of stay depends very much on the purpose of visit. If you only want a quick impression, a visit of 1 hour may be enough. If you want to stroll, enjoy the garden, picnic, making pictures, swim (reccomended by Feel-Indonesia Team), you can easily spend a half day. Maybe, you need a whole day or even more if you want to relax, reflect, pray, meditate and other spiritual retreat which Tirta Gangga.. A longer stay is well combined with experiencing the beautiful nature (landscape, rice fields, hills) in the surrounding.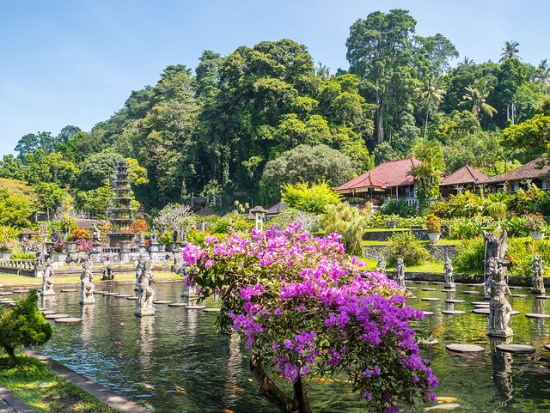 One side of Tirta Gangga Bali
Ticket Information
To enjoy the natural scenery of ponds and this palace, you need to buy ticket for 10.000 rupiahs (for local tourists) and 20.000 rupiahs (1,5 dollars) for the foreigner.
To swim inside the garden, an additional fee of Rp 10.000 for adult or Rp. 5.000 for child will be charged.
The fee for photo/videoshoot (prewedding, drone shooting) is Rp 500.000 (approx. 35 dollars) per day.
How to get there?
Tirta Gangga Bali is located in Karangasem, East Bali, about 6 kilometres north of the town of Amlapura, at a distance of 83 km from Denpasar. If you are staying around Kuta or Denpasar, you can go to Tirta Gangga by car in 2 hours. Besides Tirtagangga, Karangasem also has many interesting attractions to visit, such as Candidasa, Water Palace Ujung in Sukasada, Amed and Tulamben beach(famous diving spots with black sandy beach).
Recommended Hotels near Tirta Gangga [More Hotels]
No booking fee and pay at hotel
(sponsored by Booking.com)
Travelers who viewed Bali also viewed…
Images credit: Flickr Wesley & Brandon Rosenblum, Wesley & Brandon Rosenblum, Wesley & Brandon Rosenblum, Wesley & Brandon Rosenblum, Wesley & Brandon Rosenblum, Wesley & Brandon Rosenblum, Wesley & Brandon Rosenblum, Wesley & Brandon Rosenblum