Warning
: Use of undefined constant ICL_LANGUAGE_CODE - assumed 'ICL_LANGUAGE_CODE' (this will throw an Error in a future version of PHP) in
/srv/users/serverpilot/apps/feel-indonesia/public/wp-content/plugins/directory-extension-plugin/aitDirGallery/gallery.php
on line
134
Warning
: Use of undefined constant ICL_LANGUAGE_CODE - assumed 'ICL_LANGUAGE_CODE' (this will throw an Error in a future version of PHP) in
/srv/users/serverpilot/apps/feel-indonesia/public/wp-content/plugins/directory-extension-plugin/aitDirGallery/gallery.php
on line
135
Bali Botanical Garden or also known as Eka Karya Botanical Garden in Bedugul Tabanan Bali is a combination of conservation, learning, and recreation areas. Here, we can relax and enjoy the beauty and freshness of the air as well learn the use of herbs in our daily lives. This garden also contains pure tropical rain forest where birds conservation was held. More than 2,000 species of plants preserved in Bali Botanical Gardens, which majorly come from the mountains of eastern Indonesia such as Bali, Nusa Tenggara, Sulawesi, Maluku, and Papua. In this botanical garden, plantation program is held over year cooperating with another botanical graden.

Information about Bali Botanical Garden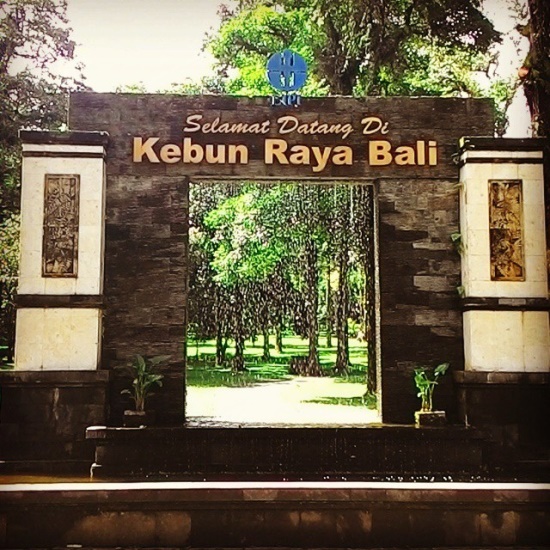 Bali Botanical Garden welcome gate
The idea of this botanical garden construction was born from Prof. Ir. Kusnoto Setyodiwiryo, the Director of the Indonesia Institute for Nature Research Center. He wanted to build more botanical garden outside Java Island becoming the center of learning and conservation. Then, Government of Bali agreed to give 50 hectares in Candikuning, Tabanan to be the botanical garden. This botanical garden has four important functions: as research, conservation, recreation, and education center. Therefore, there are many school children come to the garden especially during the weekend. Bali Botanical Garden also has sister garden near Jakarta, both Bogor, and Cibodas Botanical Garden.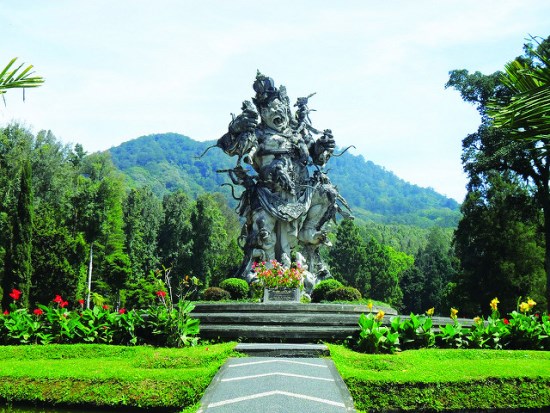 Monument of the Rawana in Bali Botanical Garden
We can see a lot of collections of orchids, roses, ferns, and mosses, begonia, cactus, traditional medicinal plants, plants for Hindu rituals, water plants species, bamboo, Rhododendron, Araceae, Herbarium. Besides that, this garden also becomes home for more than 79 birds that we can hear its chirp every day. We can see and learn about cactus also here.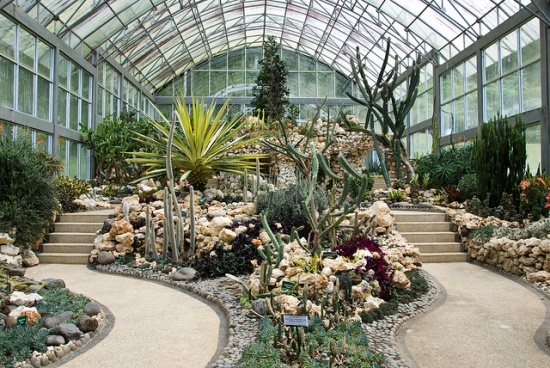 House of cactus at Bali Botanical Garden
Don't forget to visit the nearby Bratan Lake. Bratan Lake becomes one of the twenty best and most beautiful lakes in the world as reported in Huffington Post. The combination of fresh mountain air, clear view of the lake, iconic temple, and the beautiful mountains in the backgrounds are the some of the reasons to visit this magnificent place during yout trip to Bali Botanical Garden.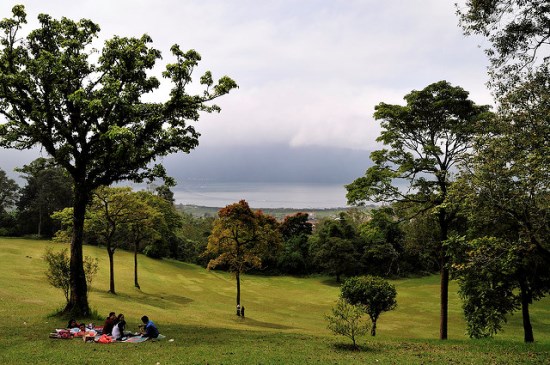 Bratan Lake from Bali Botanical Garden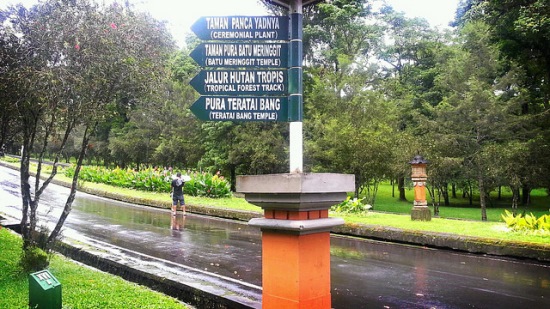 Gardens and Temples in Bali Botanical Garden
Ticket Information
To enter this botanical garden, we need to pay 10.000 rupiahs (for local) and 20.000 rupiahs (for foreigner).
How to get there?
Bali Botanical Garden is located near Bratan Lake Bali is at the center of Tabanan, about 60 kilometers from Denpasar. To reach this botanical garden, tourists can use public transport, such as taxis, buses, and travel agents that have the route from Denpasar to Singaraja (in the north Bali). You can go to Bratan Lake first and then walk to Bali Botanical Garden.
Read also: How to get to Bali
Recommended Hotels near Bali Botanical Garden [More Hotels]
No booking fee and pay at hotel
(sponsored by Booking.com)
Travelers who viewed Bali also viewed…
Images source: Flickr dhisto, icold bali, LittleJumbo, Hari Priyadi, Will Will, Komang Putrayasa