Warning
: Use of undefined constant ICL_LANGUAGE_CODE - assumed 'ICL_LANGUAGE_CODE' (this will throw an Error in a future version of PHP) in
/srv/users/serverpilot/apps/feel-indonesia/public/wp-content/plugins/directory-extension-plugin/aitDirGallery/gallery.php
on line
134
Warning
: Use of undefined constant ICL_LANGUAGE_CODE - assumed 'ICL_LANGUAGE_CODE' (this will throw an Error in a future version of PHP) in
/srv/users/serverpilot/apps/feel-indonesia/public/wp-content/plugins/directory-extension-plugin/aitDirGallery/gallery.php
on line
135
Bali I Ngurah Rai International Airport (DPS), also known as Denpasar International Airport, is located in southern Bali, 13 km south of Denpasar in the Badung district. It is Indonesia's third-busiest international airport and located in the reclamation area because of lack of land especially in the south part of Bali. "I Gusti Ngurah Rai" was a national hero at puputan– the place near Tabanan–war against Dutch in 1946 (after Indonesia Independence). He died during the war but after those Bali people became one to cast out Dutch from Bali Island and Indonesia. For me, Ngurah Rai Airport Bali was one of the most beautiful airport in Indonesia. It provides tourists the richness of culture and tradition of Bali people as the opening gate of paradise island on earth, Bali.
Bali has something to offer a very broad market of visitors from young back-packers, middle class, to the super-rich family. This amazing airport was complete at 2011, with total 200.000 square meters area.  More than half, 130,000 square meters provided for the international terminal and 70,000 square meters for the domestic terminal. Besides the extensive interior and exterior designs with Balinese architectural theme, the airport also use a state-of-the-art security and baggage handling system to protect itself from drugs abroad. Eighty percent of international visitors to Indonesia visit Bali and Bali alone!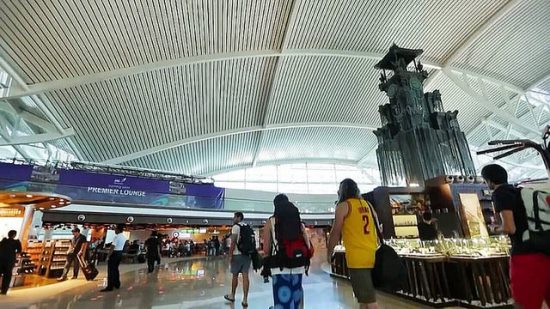 I Gusti Ngurah Rai Airport Bali Arrival Hall
Bali Pulau Dewata, The Paradise Island
The word "paradise" is used a lot in Bali and not without reason. The combination of friendly, hospitable people, a magnificently visual culture. You can also see many traditional sculpture or pictures made in Bali and taking some pictures of it will be great for your memories visiting Bali. When the plane landing and you walk into the arrival hall you can see the unique welcome gate. You can also find the statue of Gatot Kaca nearby Denpasar airport. This Gatotkaca statue was built in 1993 located in the middle of T-junction in the northeast of Ngurah Rai International Airport. Inspired by the Mahabharata epic, it shows the story of the gallant and brave knight Gatotkaca, one of the great warriors of the Pandawas. He is known as a skilled warrior and have ability to fly and responsible for air defense, and now for the passenger safety of Ngurah Rai Airport Bali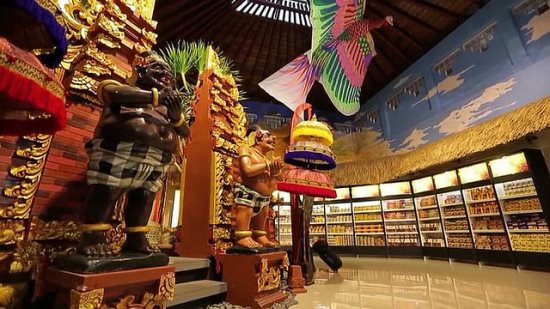 Wooden sculpture in I Gusti Ngurah Rai Airport Bali
Airport Facility
The airport provides visa on arrival service to international visitors from many countries (list). But, I recommend to prepare your visa before arriving in Bali because it will take some time here. Passengers facilities here include two executive lounges, internet access, TV, prayer room, restaurants, souvenir shops, and ATMs.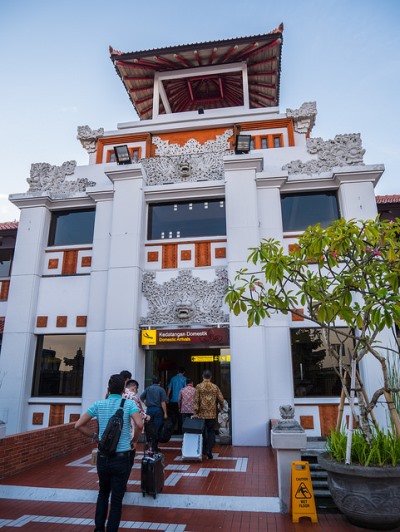 Ngurah Rai Airport Bali Welcome Gate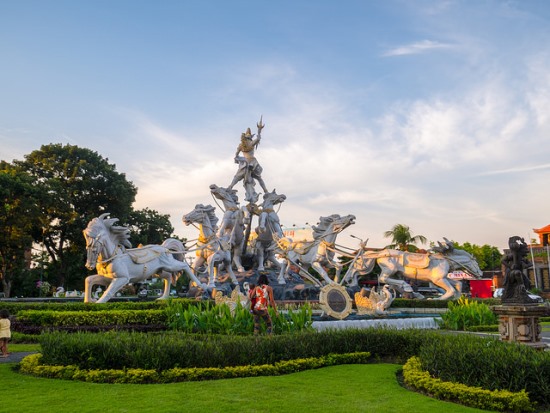 Gatot Kaca statue near Ngurah Rai Airport Bali
If you don't have enough time to hunt some Bali's souvenirs in Sukowati or Kuta, you can find them in souvenir shops in Ngurah Rai Airport Bali. There are t-shirts, glass, pictures, and wooden sclupture as key chains.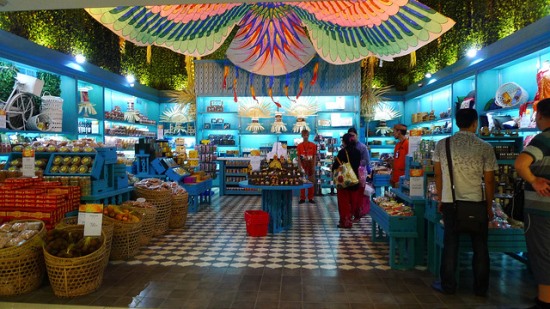 Souvenir shop in I Gusti Ngurah Rai Airport Bali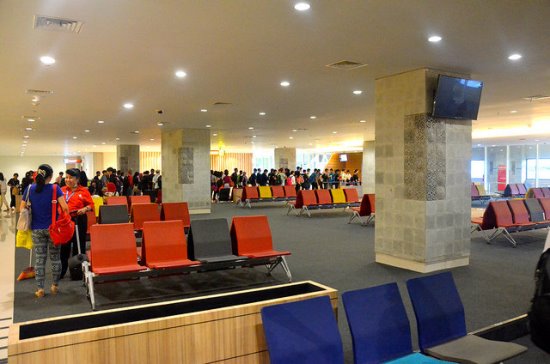 I Gusti Ngurah Rai Airport Bali Domestic Departure Hall
How to go to Bali: The Access to Bali
1. BY AIR
The easiest way to go to Bali is by air. Ngurah Rai International Airport is located just outside the city. The flights will cost around 600.000 rupiahs or around 50 dollars from Jakarta, Surabaya, Makasar, or Lombok.
There are regular daily flights from Bali, Jakarta, Surabaya, Makassar, Sumbawa, Manado, and Papua.
Garuda Indonesia, Garuda Citilink, Air Asia, Lion Air, Wings Air serves daily flights from Jakarta, Surabaya, Bali, Lombok to Bali Denpasar (roundtrip, several trips a day).
Travel Around in Bali
When you arrive at the Domestic Terminal, you can use the airport official taxi by buying tickets at the official counter taxi. This counter opens until the last flight, and you can find it right at the exit gate arrival. You just pay the ticket counter to the taxi and not to the driver taxi. You can give tips to the taxi driver later.
When you arrive at the International Terminal, you must wait for a taxi at the exit gate. If there is no taxi, there is usually a non-legal taxi, where you can bargain the fare. Official taxi fare is depends on the distance, for example to Kuta-Legian is around 80,000 rupiahs, to Jimbaran or Denpasar 90.000 rupiahs, Nusa Dua 70,000 rupiahs Nusa Dua. If you want a cheaper one, you can search Bali Taxi (Bluebird) at the airport exit (you need to walk around 50-75meter from the arrival terminal).
Car rental prices ranges from 300.000-500.000 rupiahs per day, while the motor is around 80.000- 120,000 rupiahs per day, depends on the type of vehicle.
Booking your tickets now!
Recommended Hotels near I Gusti Ngurah Rai Airport Bali [More Hotels]
No booking fee and pay at hotel
(sponsored by Booking.com)
Travelers who viewed Bali also viewed…
Images source: Flickr MYW_2507, MYW_2507, Wesley & Brandon Rosenblum, Wesley & Brandon Rosenblum, rocchio.rm, Adriansyah Yasin, MYW_2507