Warning
: Use of undefined constant ICL_LANGUAGE_CODE - assumed 'ICL_LANGUAGE_CODE' (this will throw an Error in a future version of PHP) in
/srv/users/serverpilot/apps/feel-indonesia/public/wp-content/plugins/directory-extension-plugin/aitDirGallery/gallery.php
on line
134
Warning
: Use of undefined constant ICL_LANGUAGE_CODE - assumed 'ICL_LANGUAGE_CODE' (this will throw an Error in a future version of PHP) in
/srv/users/serverpilot/apps/feel-indonesia/public/wp-content/plugins/directory-extension-plugin/aitDirGallery/gallery.php
on line
135
Bali Island not just the beach and nightlife experience. Natural panorama of the tropical rainforest such as Alas Kedaton is one of the popular attractions in Bali that you can enjoy. For you who plan to have a travel with children in Indonesia, Alas Kedaton with hundreds of monkeys may become a great deal. Alas Kedaton is a protected forest, located in Kukuh Tabanan, central Bali. Alas Kedaton Forest preserved its forest area because the local people has very strict rule about the forest. They are forbidden to cut the trees or disturb the monkeys here. Located on the route from Denpasar to Tanah Lot and Lake Bratan, why do not you stop and visit Alas Kedaton for a while?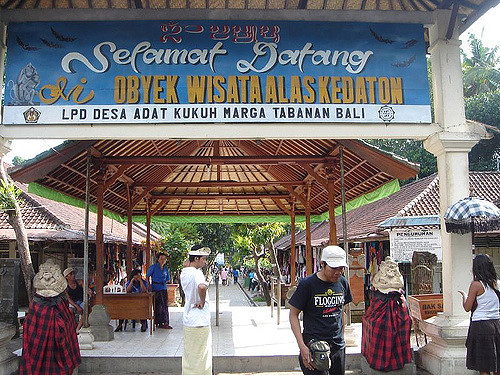 Main entrance gate
What can we do in Alas Kedaton?
1. Interacting with the monkey
Hundreds of monkey in this place are already half tame condition. They often seeing and interacting with the tourist. We can feed and touch them smoothly, while most of the are cute and adorable. Children usually very excited to interact with the monkey. You can buy some nuts at the main gate so you or your child can see the monkey closely by giving them food. While giving them food, don't forget to take picture of it. Nice and unforgettable experiences huh?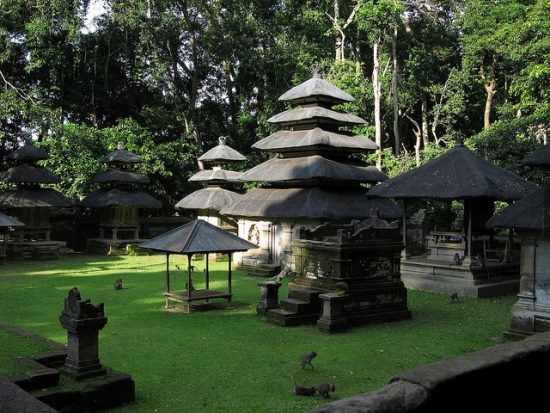 Monkeys roaming the temple of Alas Kedaton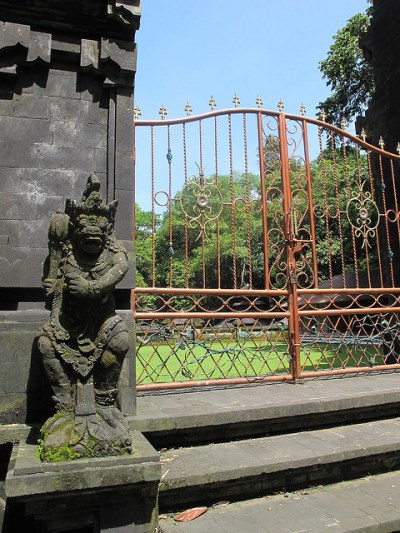 Holy Monkey Forest entrance gate
2. Visiting Alas Kedaton Temple
There is a temple in this protected forest area, known as the Pura Dalem Kahyangan or Kedaton temple. This temple is unique, unlike most other temple building where there are only two doors, here, it has for doors. According to the local story, this temple was built by the Mpu Rajakertha around the year of 1178. This temple held the great ceremony called piodalan 10 days after Kuningan Festival or 20 days after Galungan.
Besides that, in this temple, we can see Durga Mahisasura Mardhani statue that has eight hands and standing above the ox. Also, Ganesha (the God of knowledge) which sits on the lotus flower.
3. How about participating in Mapeed Alas Kedaton Ceremony?
During Mapeed, local women will go to Alas Kedaton Temple bring gebogan on their head. They are very pretty with kebaya (Indonesian traditional cloths). Gebogan is mad by fruits, vegetables, local snacks, equipped with cymbals. After that, they will pray together to thankful to the God for the blessings, especially for abundant harvests.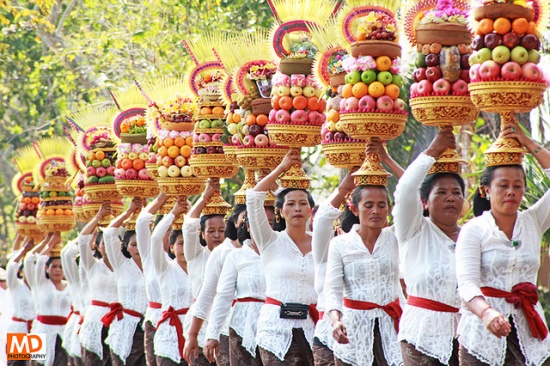 Mapeed Alas Kedaton ceremony
Ticket Information
To enter this botanical garden, we need to pay 9.000 rupiahs (for local) and 17.000 rupiahs (for foreigner).
How to get there?
Alas Kedaton is located on the route Denpasar to Tanah Lot or Bedugul (Pura Ulun Danu Bratan and Bratan Lake Bali), about 35 kilometers from Denpasar or around 70 minutes by car. To reach this botanical garden, tourists can use public transport, such as taxis, buses, and travel agents that have the route from Denpasar to Bedugul (in the north Bali).
Read also: How to get to Bali
Recommended Hotels near Alas Kedaton Tabanan [More Hotels]
No booking fee and pay at hotel
(sponsored by Booking.com)
Travelers who viewed Bali also viewed…
Images source: Flickr Coinflip Trekker, laumica79, Li Tsin Soon, Wayan Mardana, Li Tsin Soon