Warning
: Use of undefined constant ICL_LANGUAGE_CODE - assumed 'ICL_LANGUAGE_CODE' (this will throw an Error in a future version of PHP) in
/srv/users/serverpilot/apps/feel-indonesia/public/wp-content/plugins/directory-extension-plugin/aitDirGallery/gallery.php
on line
134
Warning
: Use of undefined constant ICL_LANGUAGE_CODE - assumed 'ICL_LANGUAGE_CODE' (this will throw an Error in a future version of PHP) in
/srv/users/serverpilot/apps/feel-indonesia/public/wp-content/plugins/directory-extension-plugin/aitDirGallery/gallery.php
on line
135
Pura Besakih referred as the mother of all temples in Bali. Indeed, Besakih Temple consists of various types temple located on the south slopes of Mount Agung. Besakih name, supposedly taken from the word 'Wasuki' (Sanskrit), which means safety. Besakih name also refers to the name of the dragon in the Hindu mythology which is 'Naga Basuki' is believed to be the guardian dragon god of Mount Agung. In the area, there is Central Pura Besakih (Penataran) and the other eighteen temples. Penataran (the central of Besakih Temple) is the greatest temple area, there are many high temple building, great and magnificent architecture and natural view. Pura Besakih had already been used as the worship place to the God before the Hinduism came to Bali.

A sacred building has unique roof called Meru. Meru has a varied amount of overlap (undak). Overlapping is a term for the amount of the existing roof on the sacred building. The amount of overlap of the Meru if we count will always an odd number. Starting from Meru overlap 3, overlapping 5, 9 to a highest overlap 21.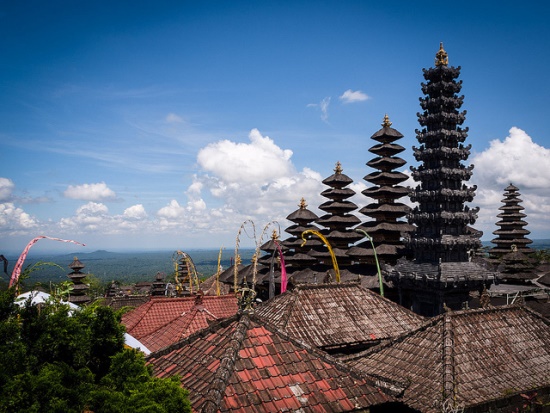 The view of Pura Besakih
What can we do?
1. See Pura Penataran Agung
Pura Penataran Agung or Great Penataran Temple was the biggest temple area in Besakih. It has many buildings and shrines. In Penataran there are 3 main temple statues of the nature of God Stana Tri Murti, namely Brahma, Vishnu, and Shiva. Brahma symbolizes the God of Creator, Vishnu the God of Preserver, and Shiva as the God of Reincarnation. Besakih included in the nomination list of UNESCO World Heritage Site since 1995.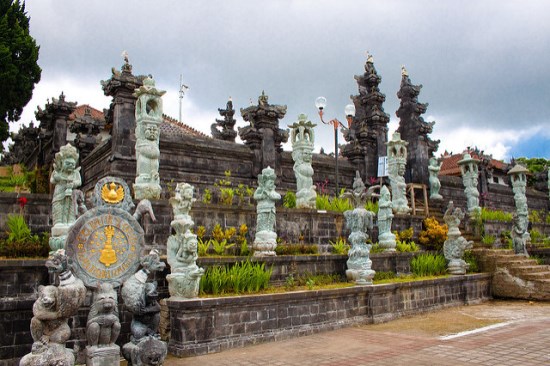 The gate of Pura Besakih
Entering this area, you will see the gate of Pura Besakih. Standing in Penataran Temple area you will not only see the beautiful Mount Agung exposed to sunlight in the morning but also see scenic nature panorama around this temples. There are total 46 (forty-six) temples in Besakih with rich with a variety of ornaments and statues of gods.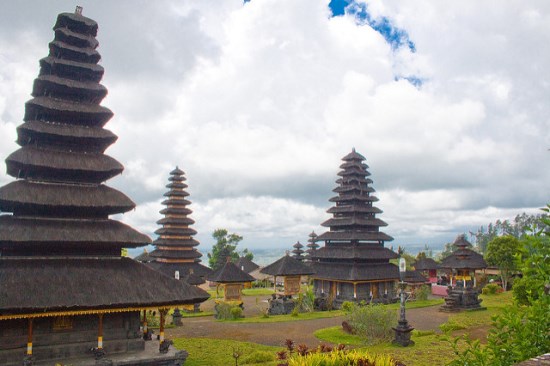 The complex of Pura Besakih Temple
2. Learn History of Besakih Temple
According to the Chronicles of Bali (Babad Bali), the history of Besakih began when Markandeya, an Indian Hindu leader wander to Bali following the magical voice which got when meditating on the Dieng Plateau in Central Java. The voice told him to open forest on the Dawa Island (Bali) to be distributed to his followers.
But Markandeya journey did not run smoothly because some of his followers died after killed by wild animals or disease. After performing the ceremony of Lord Yadnya Markandeya entourage finally arrived at the slopes of Mount Agung and there they found the relics of prehistoric relics such as menhirs and others.
After that, Markandeya started to build Besakih Temple. Until now, there are many traditional ceremonies like Galungan, Kuningan, and Saraswati that was held on Pura Besakih.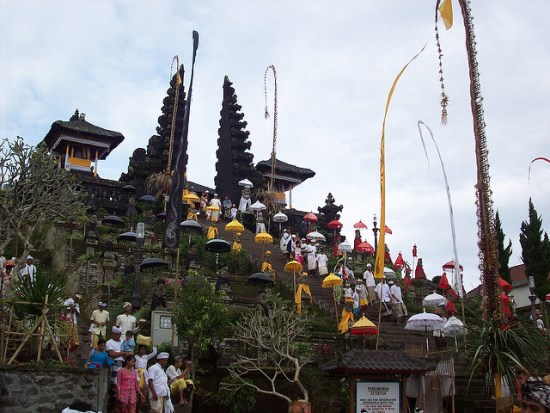 Traditional Ceremony held on Pura Besakih
Prepare to go to Pura Besakih
Because the temple is a religion place of Hinduism and not tourist spots, so there is special equipment that you must be brought to be able to visit and see this amazing temples in Besakih.
For you non-Hindu, the equipment must be taken that a parchment (sarung) and also scarves, you can also use udeng (traditional headband) used by Balinese people. Don't worry, there will be a vendor selling the parchment, scarves, or udeng for you. Or if you hire the services of a tour guide, you can get from the guide.
How to get there?
Besakih Temple is located in the Rendang, Karangasem, Bali. This temple can be reached by a two-hour drive from Ngurah Rai Airport and the city of Denpasar. Traveling from Kuta to Besakih takes about 2 hours. Another option is to rent a motorbike or you rent a car.
After visit Besakih Temple, you can go to Ubud, Kintamani, and Batur Lake, while it has the same area on the south side of Bali.
Recommended Hotels near Pura Taman Ayun Tabanan [More Hotels]
No booking fee and pay at hotel
(sponsored by Booking.com)
Travelers who viewed Bali also viewed…
Images source: Flickr exilism, Bertrand Duperrin, Bertrand Duperrin, manklikfirst, Wesley & Brandon Rosenblum, Li Tsin Soon, Wesley & Brandon Rosenblum, made_bagus94, pydum