Warning
: Use of undefined constant ICL_LANGUAGE_CODE - assumed 'ICL_LANGUAGE_CODE' (this will throw an Error in a future version of PHP) in
/srv/users/serverpilot/apps/feel-indonesia/public/wp-content/plugins/directory-extension-plugin/aitDirGallery/gallery.php
on line
134
Warning
: Use of undefined constant ICL_LANGUAGE_CODE - assumed 'ICL_LANGUAGE_CODE' (this will throw an Error in a future version of PHP) in
/srv/users/serverpilot/apps/feel-indonesia/public/wp-content/plugins/directory-extension-plugin/aitDirGallery/gallery.php
on line
135
Pura Tirta Empul is located in Tampak Siring Area. Tampak Siring is a beautiful village located in Gianyar Regency Bali where the Indonesian President's Palace is located. Pura Tirta Empul is a unique temple with two big ponds, holy water sources from Pakerisan River that run also to Gunung Kawi Temple nearby. Tirta Empul comes from words "Tirta" means holy water and "Empul" means ground. It literally means holy water that gushes out of the ground. Many local people use this water to take bath and it is believed that the water can disappear all bad influence in the body and also cure the illness. Both Pura Tirta Empul and Tampak Siring Palace are the musts to visit place for those who likes to historical experience in Bali.
What can we do in Pura Tirta Empul?
1. See the historical Tirta Empul Temple
Tirta Empul Temple is divided into three sections that are Jaba Pura (the outer), Jaba Tengah (the middle) and Jeroan (inner). In the Jaba Tengah area, we can see two long rectangular pools with 30 pieces water shower facing south. Each of shower has its own names, such as Pengelukatan, Pebersihan, Sudamala and Cetik.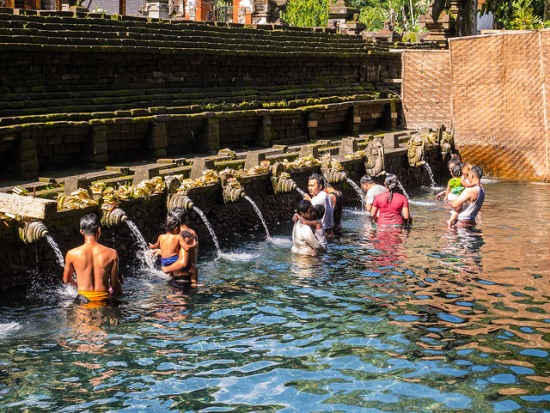 Petirtaan or holy spring water at Pura Tirta Empul Bali
Shower cetik and Tirta Empul name have something to do with the mythology that battles King Mayadenawa with Batara Indra. In the past, King Mayadenawa did not allow the people to pray and do religion ceremony. Gods know this Mayadenawa bad actions. Batara Indra then attacked Mayadenawa. Mayadenawa defeated and run to the north reached the Tampak Siring Village.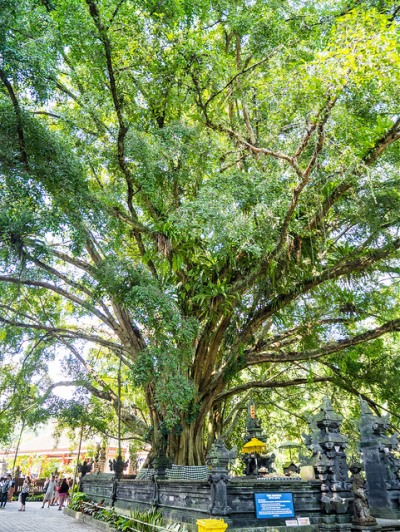 One big tree on the way to Pura Tirta Empul
With his power, Mayadenawa created a cetik (poison) water shower, which resulted many of Batara Indra troops died after drinking the water. Seeing this, Batara Indra immediately stuck his spear and emit water out of the ground (Tirta Empul) and this holy water neutralize the water.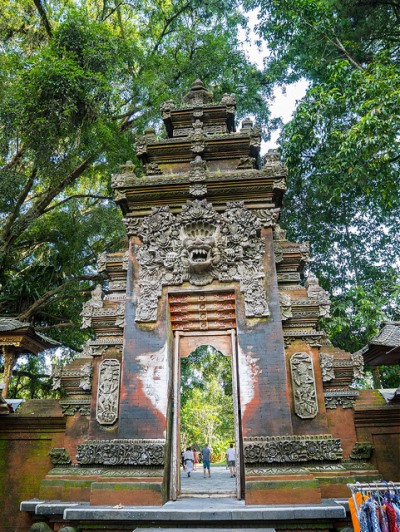 Pura Tirta Empul Entrance Gate
After that, Mayadenawa ran away. He hid by changing himself into a variety of forms. At the end, Mayadanawa transforms itself into Batu Paras, which Batara Indra knew about that. Batara Indra then shot Batu Paras using his arch and eventually King Mayadanawa doomed. Mayadanawa death was later commemorated by the Hindu community in Bali as a warning of Galungan, which implies "Dharma victory against Adharma".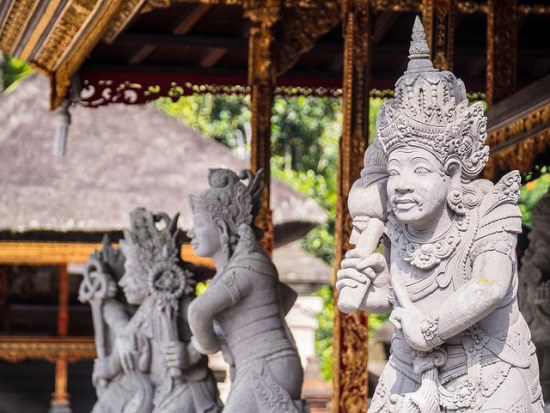 Statues of goddess at Pura Tirta Empul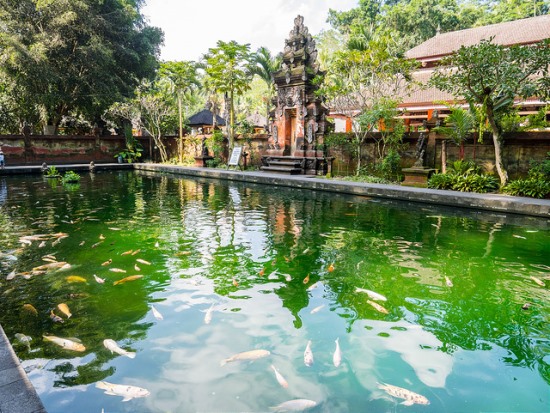 Pond with big koi fishes at Pura Tirta Empul
2. See the magnificent Tampak Siring Palace
On the hill behind Pura Tirta Empul, we can see Istana Tampak Siring or Tampak Siring Palace, the former Presidential Palace. The first President of Indonesia Sukarno, built this palace in 1957 to respect his mother who was Balinese. Until now, President of Indonesia family used this palace as the rest house. The buildings of the complex are scattered around on an area covering 19 hectares with a great view of parks around and Mount Agung.
Tampak Siring Palace on the hill
3. Go to Gunung Kawi Temple
Gunung Kawi Temple locates in southwest Pura Tirta Empul. Gunung Kawi literally means "mountain carving" while many temples can be found in the valley of Kawi Mountain. The main building was built in the eleventh century by King Udayana, the greatest King in Bali area. If you want to enjoy "The calm of Bali" by having relaxation or meditation, Gunung Kawi temples are the perfect place for you.
Ticket Information
Before enjoying the temples and palace area, we need to pay entry cost about 15.000 rupiahs (1,5 dollars). And as common in Pura or temples in Bali, we have to wear the balinese sarong to go inside to show respect while visiting the holy place. Feel-Indonesia recommends you to should buy sarong rather than rent it. You can bring it home as your souvenirs also from Bali. Women with long hair must use a headband. And women that have menstruation period, are not allowed to enter the temple area.
How to get there?
From Ngurah Rai Airport and Denpasar city center, you can ride the motorcycle or rental car to Tampak Siring Ubud in 75 minutes. Pura Tirta Empul and Tampak Siring Palace was located near each other (only separated by the small hill).
If you stay in Ubud, you can reach Tirta Empul Temple and Tampak Siring Palace by using taxi around 15-20 minutes. The fare is around 50.000-70.000 rupiahs depends on the traffic.
Recommended Hotels in Tegalalang [More Hotels]
No booking fee and pay at hotel
(sponsored by Booking.com)
Travelers who viewed Bali also viewed…
Images credit: Flickr Wesley & Brandon Rosenblum, Wesley & Brandon Rosenblum, Wesley & Brandon Rosenblum, Wesley & Brandon Rosenblum, Wesley & Brandon Rosenblum, Wesley & Brandon Rosenblum, Andrew Priest