Warning
: Use of undefined constant ICL_LANGUAGE_CODE - assumed 'ICL_LANGUAGE_CODE' (this will throw an Error in a future version of PHP) in
/srv/users/serverpilot/apps/feel-indonesia/public/wp-content/plugins/directory-extension-plugin/aitDirGallery/gallery.php
on line
134
Warning
: Use of undefined constant ICL_LANGUAGE_CODE - assumed 'ICL_LANGUAGE_CODE' (this will throw an Error in a future version of PHP) in
/srv/users/serverpilot/apps/feel-indonesia/public/wp-content/plugins/directory-extension-plugin/aitDirGallery/gallery.php
on line
135
Danau Bratan is located in Bedugul, Candikuning village, district Baturiti, Tabanan Bali. Bratan Lake has an area of approximately 375 hectares with a depth of between 22-48 meters and area of 12 kilometers, thus Bratan Lake becomes the second largest lake in Bali, just after Lake Batur. It plays the important role as the main source of irrigation water in areas at the center Bali. Bratan Lake becomes one of the twenty best and most beautiful lakes in the world as reported in Huffington Post. The combination of fresh mountain air, clear view of the lake, iconic temple, and the beautiful mountains in the backgrounds are the some of the reasons to visit this magnificent place during a holiday in the paradise island Bali. So, why not visit Bratan Lake Bali?
What can we do in Lake Bratan?
1. Enjoy the beautiful lake view
The surrounding Lake Bratan area is covered by adequate accommodations such as hotels, villas, restaurants for the convenience of visitors. For those of you who like water sport, you can also play parasailing, canoeing or jetski. To just spend time, tourists can also fish on the lake shore, right under the lush bamboo near the lake shore. The fishing equipment can be rent for 20.000 rupiahs a day.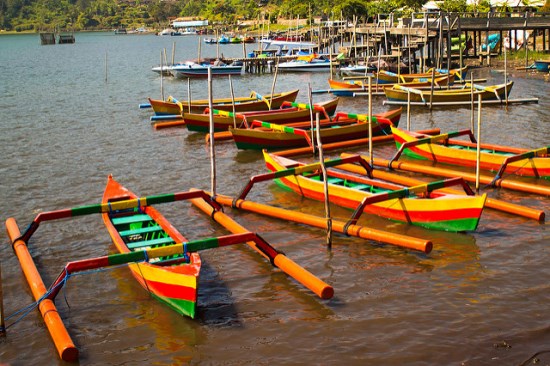 Traditional boat in Bratan Lake
2. Hike Mount Catur
In the eastern part of the lake Bratan, there is a mountain called Mount Catur (or called Pucak Mangu) as a very nice place for hiking. Not far from the lake region there are also interesting sights such as the Eka Karya botanical garden and Bedugul fruit market.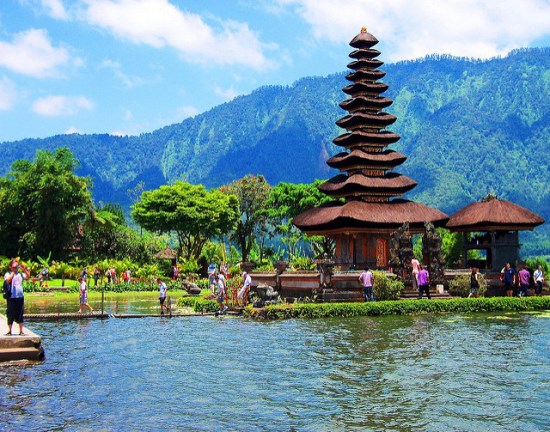 Bratan Lake and Mount Catur in the behind
Ulun Danu Bratan has a very beautiful view when in the early morning when the sun rises and fog covered the mountain. The reflection of Ulun Danu looks so amazing on the water surface of the Lake Bratan. You can visit this temples which located near the lakeshore.
Beautiful day in Bratan Lake
How to get there?
Bratan Lake Bali is at the center of Tabanan, about 55 kilometers from Denpasar. To reach this temple, tourists can use public transport, such as taxis, buses, and travel agents that have the route from Denpasar to Singaraja (in the north Bali). This lake is located on the border between Tabanan and Buleleng district, located on the edge of the main road, exactly at the shore of Lake Bratan.
Read also: How to get to Bali
Recommended Hotels near Bratan Lake [More Hotels]
No booking fee and pay at hotel
(sponsored by Booking.com)
Travelers who viewed Bali also viewed…
Images source: Flickr Rami Okasha, TheCriminalCat, Panoramix999, Dyahniar Labenski