Warning
: Use of undefined constant ICL_LANGUAGE_CODE - assumed 'ICL_LANGUAGE_CODE' (this will throw an Error in a future version of PHP) in
/srv/users/serverpilot/apps/feel-indonesia/public/wp-content/plugins/directory-extension-plugin/aitDirGallery/gallery.php
on line
134
Warning
: Use of undefined constant ICL_LANGUAGE_CODE - assumed 'ICL_LANGUAGE_CODE' (this will throw an Error in a future version of PHP) in
/srv/users/serverpilot/apps/feel-indonesia/public/wp-content/plugins/directory-extension-plugin/aitDirGallery/gallery.php
on line
135
Bali Waterboom recognized as the best Waterpark in Asia (refer to Tripadvisor, 2016), standing in front of Universal Studios Singapore, and Tokyo Disneyland both in Tokyo and Hongkong. What? Indonesia have a place like that? I don't believe that, but, until I see with my eyes how fascinating this waterpark. Let me introduce Bali Waterboom to all of you guys! Just beside the famous beach in Bali, Kuta Beach! Wohooo!
What can we do in Bali Waterboom?
Of course playing water! There are a lot of attractions here, which you can play alone or together with your friends and family. Bali Waterboom was five-star attraction, so the facilities, design, and the ambience is quite good and modern.
Twin Racers
This skating vessel is a sleek twin skating, and straight, the most exciting when playing this with a friend racing each other down below, who reached the finish line first will be win. But, this attractions was the most popular one.
Smash Down 2.0
This skating vessel which is famous from long ago, its height is now 25.9 meters perpendicular and 5 meters higher than the first 1.0 Smash down. To play here, you just need to stand in the capsule, then suddenly the capsule is open and you fall down fall. Personally, I must said that this game is challenging your adrenaline, and I suggest people with some heart problem should not try to play this game.
Fast N Fierce
This one skating venue is also no less challenging to our adrenaline, consisting of 2 slides that with the enormous speed.
Double Twist
High speed when falling down, and spinning turns causing a tremendous sensation.
Constrictor
This sled race is the longest sleding racetrack in the world, with more than 250 meters long.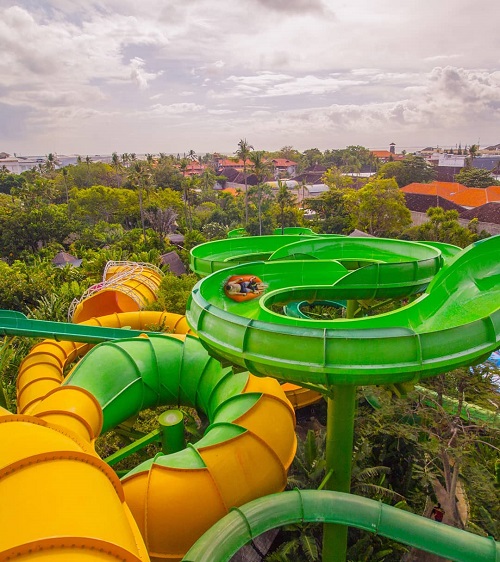 Seluncuran at Bali Waterboom
Green Vipers
This sled race uses the most sophisticated Silk Tec fiber glass technology in the world. With the 6 meters height and 19.62 meters long, we can glide and spin around the tropical tree trees in the Bali Waterbom area.
Python
This skating vessel is the greatest skating among all the slides on this bali waterbom, you can play together as many as 3-4 people in one tire, and you will be swiveled around in a giant tube with a high speed so that the excitement which sasy dasyar felt with your friends or family.
Pipeline
This sled is shaped like a 150-meter-long pipe and 20 meters high from the surface of the ground, you will be made to revolve around this waterbom tropical garden for 10-13 seconds with high speed. Give you sensation of 3.5 earth's gravitational force to your body.
Funtastic
This vehicle is a vehicle for children and families, children can spend a lot of time relaxing here with mother. Funtastic is the best attractions for you to take a rest for a while.
Buy Online Now
Bali Waterboom Admission Ticket
Lazy River
This rides is a relaxing swimming rides, we can together with family and friends trek through this artificial river while talking about the forest and shading tropical garden. We can see small waterfall in some spots. Besides, you can also relax for a moment event sleep like what I have done before.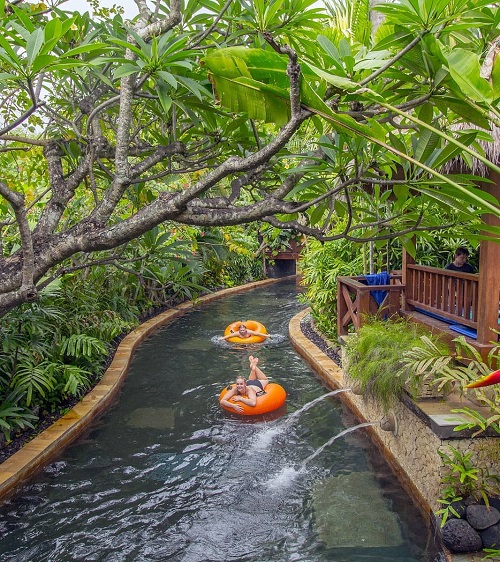 Lazy River at Bali Waterboom
Super Bowl
This skating rides like a closet hole, you will be invited to turn it and then you are input into the hole until it goes inside with the speed more than 50 kilometer/ hour.
Climax
This sled race is the most extreme right now after smack down 2.0, tube position perpendicular to height 16 meters from the mainland. You will surely panic before the tube door opens, a sensation of fear that you will never forget forever. After each open tube you will skate down with the power of 2.5 gravitational force.
Before go home, you can visit also Bubba Gump Restoran as the Forrest Gump film. There is a photo spot with the setting as Forrest Gump sat in the park bench, and said, "My Mama always said, life was like a box of chocolates; you never know what you're gonna get."
Facilities Provided in Bali Waterboom
Locker, just put all of your stuff here.
Gazebo to relax or take a rest for a while.
The towel rental.
Photobooth, if you want to make memory instantly in this place.
Ticket Information
Single Day Pass : 315.000 rupiahs (USD 22,82)
Double Day Pass : 415.000 rupiahs (USD 30,07)
Total Package (Single Day Pass with VIP entry, lunch, tower rental, and free photos) : 750.000 rupiahs (USD 54,34)
Value Package (Single Day Pas with free lunch package) : 365.000 rupiahs (USD 26.45)
How to get there?
Read also: How to get to Bali
Recommended Hotels near Bali Waterboom [More Hotels]
No booking fee and pay at hotel
(sponsored by Booking.com)
Travelers who viewed Bali also viewed…
Images source: waterboom bali