Warning
: Use of undefined constant ICL_LANGUAGE_CODE - assumed 'ICL_LANGUAGE_CODE' (this will throw an Error in a future version of PHP) in
/srv/users/serverpilot/apps/feel-indonesia/public/wp-content/plugins/directory-extension-plugin/aitDirGallery/gallery.php
on line
134
Warning
: Use of undefined constant ICL_LANGUAGE_CODE - assumed 'ICL_LANGUAGE_CODE' (this will throw an Error in a future version of PHP) in
/srv/users/serverpilot/apps/feel-indonesia/public/wp-content/plugins/directory-extension-plugin/aitDirGallery/gallery.php
on line
135
Who is not fascinated by the beauty of Gili Trawangan? The unspoiled island with extravagant natural panorama makes many people (both local and foreigner) want to feel the sensation of a holiday on the island. According to a survey compiled by one of the travel sites in the world, Gili Trawangan is standing as the most the affordable tourist island in terms of cost expenditure per day (including accommodation, meals, attractions, and transportation) in the South East Asia. Then, what makes Gili Trawangan managed to rival the popularity of the island of paradise–Bali? And why many tourists began to forget Bali and try to visit this island? See our journey to Gili Trawangan, unfold the best things to do in the most famous tourist spots in Lombok Nusa Tenggara!
What can we do in Gili Trawangan?
1. Swimming or playing around the beach
Gili Trawangan and Bali have the similarity. Both of them have the beautiful sandy beach. You will be amazed by a combination of blue skies, sparkling turquoise sea, and white sandy shoreline without limits! We can play sand or just sit on the beach, and of course swimming. The warm water makes us can enjoy hours of swimming and playing water hours without being cold. If you're swimming, please note boundary area of beaches that are allowed to swim, usually marked with ropes and small balloons floating on the sea water. Outer area of this border is deeper and more dangerous.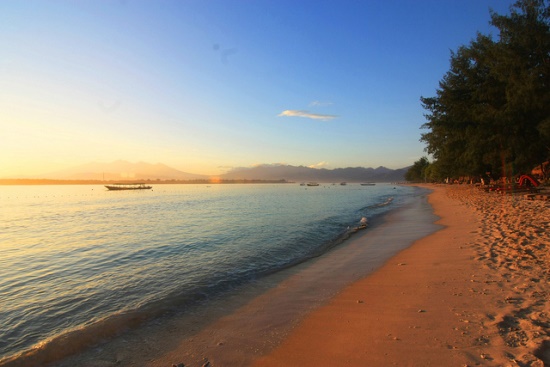 The best of Gili Trawangan Lombok
2. Enjoy the beautiful sunrise and sunset in Gili Trawangan
One of the favorite attractions of tourists is a tourist attraction Gili Trawangan. Gili Trawangan is the most famous tourist spot in Lombok. Here, we can enjoy the sunset and sunrise! This happens because of Gili Trawangan has a beach facing east and also west, and the distance is not too far away.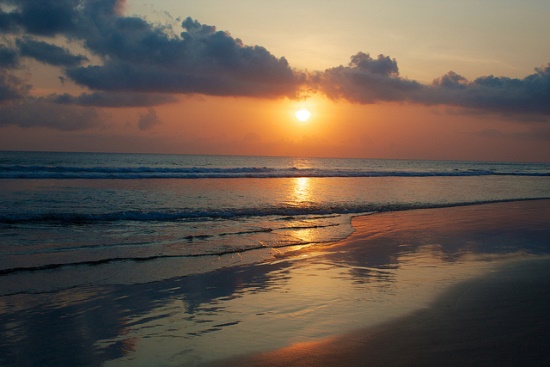 Sunset at Gili Trawangan Lombok
3. Enjoy water sport here
Gili Trawangan is popular not only because of beach, here we can enjoy diving, snorkeling, or boat tour here with a nice coral reef view. The best attractions here is the "hopping island tour" where we can enjoy snorkeling in several spots here, Gili Meno, and Gili Air. We join in a group together with the other participants in the same boat and go to the snorkeling spots around.
Besides that, you can also learn diving in Discovery Scuba Diving package. This package covers both theoretical and practical for approximately 2 hours. Enjoy the opportunity to use diving equipment and diving exercises in the pool that was already prepared to practice diving.
Gili Trawangan and the others Gilis have a great underwater world. Clear seawater makes various fish and water animals are easily visible. Visiting Gili Trawangan without sensation snorkeling or diving around the island is not complete!
4. Try local food here while enjoying the beach
Restaurant or cafe can be found in Gili Trawangan easily. They have both local or western (modern) menu: from American, European, Chinese Food, also Ireland Food. The prices are set is also quite expensive, equivalent to a cafe and bar for foreign tourists, started from 100.000 rupiahs (8 dollars). Besides that, we can find several vending carts fruit juice, salad and ice cream around the beach. During the night, we can enjoy live music and dance performances in the cafe or bar. Same as Bali, you can enjoy nightlife experiences in Gili Trawangan.
How to get there?
The easiest way to go to Lombok is by air. The newly Lombok International Airport (LOP) is located in Pujut District in the Central Lombok, around 40 kilometers to Mataram, the capital and the biggest city in West Nusa Tenggara. The flights will cost around IDR 500.000 or around 40 dollars.
From Lombok International Airport, you can take a taxi or rental car to the beach and then take traditional or speed boat to Gili Islands.
Nowadays, as the tourism activities grow in Lombok, there are new private fast boats operates serving Bali – Lombok – Gili Islands route. This fast boat service only carries passengers with limited seats available (10-20 people). For your notice, pregnant women, people with heart disease, and child under 2 years old are not suggested to go with these fast boats. The fare is quite higher than taking a flight. But if you plan to go to Gili Trawangan only (without visiting the main Lombok Island), it was good choice to save your time.
Travel around Gili Trawangan
If you want to go to there, Feel-Indonesia Team recommends to use backpacker bag for all of your belongings. Almost all of the roads and pathways in Gili Trawangan covered by sand, and it will be very difficult to bring wheeled-luggage here.
Both cars and motorcycles not permitted on here (as well as in Gili Meno and Gili Air). To travel around Gili Trawangan, you can rent the bicycle for 50.000-75.000 rupiahs per day. Or using cidomo, the simple horse-drawn carriage which is common in Lombok. If you want to go to Gili Meno and Gili Air, there is motorized boats and speedboats that travel every hour.
Recommended Hotels in Gili Trawangan [More Hotels]
No booking fee and pay at hotel
(sponsored by Booking.com)
Images credit: Flickr wisnu yuwandono, JiPé1, Andrea Merlin