Warning
: Use of undefined constant ICL_LANGUAGE_CODE - assumed 'ICL_LANGUAGE_CODE' (this will throw an Error in a future version of PHP) in
/srv/users/serverpilot/apps/feel-indonesia/public/wp-content/plugins/directory-extension-plugin/aitDirGallery/gallery.php
on line
134
Warning
: Use of undefined constant ICL_LANGUAGE_CODE - assumed 'ICL_LANGUAGE_CODE' (this will throw an Error in a future version of PHP) in
/srv/users/serverpilot/apps/feel-indonesia/public/wp-content/plugins/directory-extension-plugin/aitDirGallery/gallery.php
on line
135
Makassar is increasingly showing its existence as a tourist destination in Indonesia. Its strategic location on the south side of Sulawesi made them very famous from centuries as the gateway to eastern Indonesia (Maluku and Papua). From 1971 to 1999, Makassar was called as Ujung Pandang, but during otonomi daerah (politic separation from Jakarta to each region), people agree to change the name as Makassar. Makassar is also the hometown of Jusuf Kalla, the Indonesia Vice President in (2014-2019). As the metropolitan city, we can see several cultural attractions, traditional houses, and also delicious traditional foods from Bugis, Toraja, Mandar, Buton, Tionghoa, and Javanese people who lived in Makassar. Before go to Makassar, read this Makassar Travel Guide.
The most famous tourist destination in Makassar was Losari Beach. The waterfront area faces Sulawesi Sea, which now has the plaza and courtyard are always crowded with tourists and locals. We can enjoy an afternoon and see the sunset that was very beautiful. During the night time especially on weekends or holiday, you can enjoy traditional art performances and also food stands.
New years at Losari Beach Makassar
Not far from Losari Beach, you can also visit Fort Rotterdam or Gowa Fort. This fortress is a Gowa's legacy, the empire had triumphed around the 17th century with a capital of Makassar. Gowa Fort then was known as Fort Rotterdam after Nederland use this building as the office during colonial period during 17-19th century. Seeing this building, I imagine lady in white, laced gown walk around; with straight-backed, crisp-uniformed men and soldier milling around. Nowadays, Fort Rotterdam was used as museum and tourist attraction. There are several Gowa Forts that spread in the Makassar, bus Fort Rotterdam was the most famous one, because of its location and its authenticity that has been preserved until now.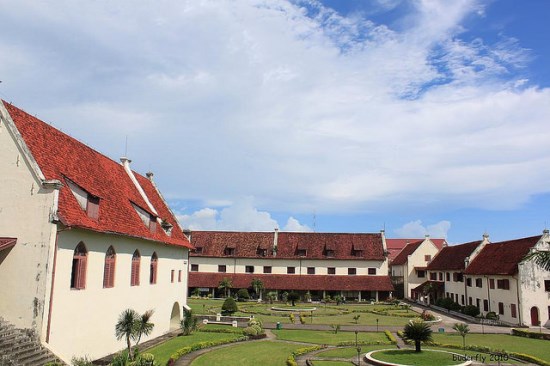 The view of Fort Rotterdam in Makassar
You can also visit floating mosque Amirul Mukminin. It was called as floating mosque because built above the sea. With the majority Moslem population, a lot of people will come to this mosque during the praying time. You can see this mosque at the southern end of Pantai Losari. During night time, you can see the mosque with beautiful night illuminations.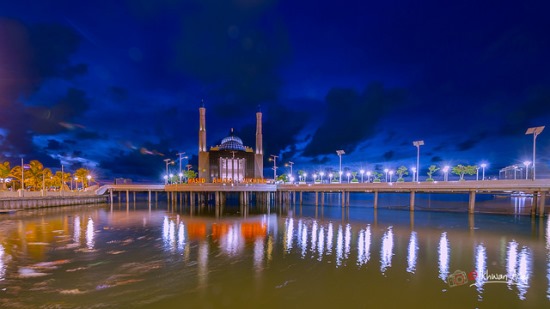 Floating Mosque Amirul Mukminin Mosque in Makassar
Also Panyua Fort the pentagon-shaped fort with 5 meters wall. It was like a turtle (penyu) that come to the beach. In every side, we can see cannon as the defense that was well preserved until now.
There is also a new family entertainment you might try in Makassar, that was Trans Studio Makassar. Trans Studio Makassar was the second biggest indoor theme park in the world (after Trans Studio Bandung), with many attractions and parades. A little bit far away, you can go to Samalona Island, Gusung Island, and Kayang Island that have the beautiful beach.
Over in Makassar, do not worry about the accommodation. Makassar as the biggest city in Sulawesi Island has been ready to welcome travelers with the availability up to the five-star hotel with very nice beach-sightseeing just from your window.
For matters of public transportation, in Makassar, you can use public transportation in the local language called pete-pete. Most of the public transportation have route pass through the main streets of the city to the surrounding area.
Makassar also famous of the culinary city with a lot of traditional cuisines, like Sop Konro, Konro Grilled, Coto Makassar, Pallubasa, Titi Noodle, Pisang Ijo and Palu Butung Ice, and Pisang (banana) Epe. Most of this food can be enjoyed in restaurant or cafe near Losari Beach. Besides that, as the souvenirs, you can buy Hornet Oil, peanut discos (mixed peanuts), Dangke, and also Passion Fruit Syrup.
How to get there?
The capital of South Sulawesi province that was formerly called Ujung Pandang, can be achieved by using air transportation from various cities in Indonesia, especially Jakarta. Many of flights are ready to serve tourists traveling to the Sultan Hasanuddin International Airport for 2 hours. Jakarta to Makassar fare tickets range from 800,000 to 2 million rupiahs. In addition, if you want saving rates, it can also use sea transportation from various surrounding cities including Jakarta and Surabaya, but will take 8 hours.
Recommended Hotels in Makassar [More Hotels]
No booking fee and pay at hotel
(sponsored by Booking.com)
Images source: Flickr Ikhvan, Ikhvan, Zulkarnaen Gobel, Ikhvan, Kesultanan dan Kerajaan di Indonesia