Warning
: Use of undefined constant ICL_LANGUAGE_CODE - assumed 'ICL_LANGUAGE_CODE' (this will throw an Error in a future version of PHP) in
/srv/users/serverpilot/apps/feel-indonesia/public/wp-content/plugins/directory-extension-plugin/aitDirGallery/gallery.php
on line
134
Warning
: Use of undefined constant ICL_LANGUAGE_CODE - assumed 'ICL_LANGUAGE_CODE' (this will throw an Error in a future version of PHP) in
/srv/users/serverpilot/apps/feel-indonesia/public/wp-content/plugins/directory-extension-plugin/aitDirGallery/gallery.php
on line
135
Palembang Travel Guide – Palembang is the capital of the province of South Sumatra, which is the second largest city in Sumatra after Medan (North Sumatera). The city has a total area of 358.55 square kilometers and was once the capital of the kingdom of maritime Southeast Asia's largest Buddhist Kingdom Sriwijaya. It is made Palembang also called "Bumi Sriwijaya". In the Western world, the city of Palembang is also nicknamed the Venice of the East. Palembang is the oldest city in Indonesia at least 1382 years old if based Srivijaya inscription known as Notch Hill.
Palembang Travel: The History
According to the topography, the city is surrounded by water, even submerged by water sourced either from rivers and swamps, as well as rainwater. So the ancestors of the people of this city as a city named Pa- or Pe- in the Malay (Melayu), means valley swollen roots submerged in water for a long time. After that, this area called Palembeng and become Palembang.
Location of Palembang is strategic because it passed by a road connecting the Trans-Sumatra between the south region and north regions in Sumatra. Palembang itself can be reached via direct flights from various cities in Indonesia such as Jakarta, Batam, Bandung, Lampung, Pangkal Pinang (Bangka Island), Tanjung Pandan (Belitung Island), Medan, Kuala Lumpur, and Singapore. The Airport was around 15 kilometers from city center, name Sultan Mahmud Badaruddin II Airport.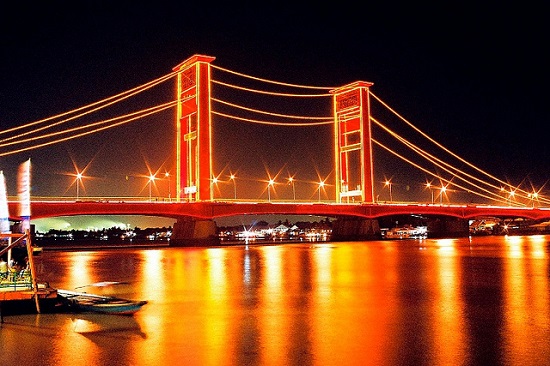 Night ilumination in Ampera Bridge
The most famous tourism spot in Palembang was Ampera Bridge over Musi River. Semi suspension bridge was the icon of Palembang, well-known all over the Indonesia. Night Illumination here was very fantastic and beautiful. Besides that, you can also visit the Great Mosque of Sultan Mahmud Badaruddin I with old Srivijayan style architecture. Then Kuto Besak Fort near Ampera Bridge as the first fort that was built by locals in the Palembang Sultanate, Kambang Iwak Family Park, Sriwijaya Kingdom Archaeological Park, Textile (Songket) Museum, Kemaro Island, Jakabaring Waterboom in the Jakabaring Sports Center.
Over in Palembang, you can also see arts and culture, among others Festival decorative boat and Bidar race in Musi River, traditional performing arts Dul Muluk, Gending Sriwijaya dances, Syarofal Anam dances, and also Traditional House of Palembang.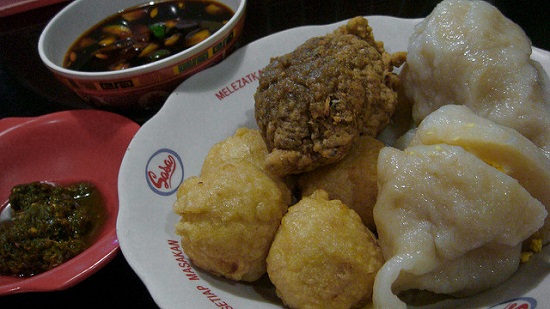 Delicious Pempek Palembang
The traditional food that you might try among Pempek, Tekwan, Pindang Patin, Mie Celor, Burgo, Lakso, Otak-otak, and Kemplang. All of them are made from fish chips that were very popular in Palembang.
Palembang Travel: Day trip
1. To Belitung Island
There are several flights from Sultan Mahmud Badaruddin II Airport to Tanjung Pandan, Belitung Island. A tiny island with a beautiful and scenic beach. Belitung gained its popularity as Negeri Laskar Pelangi, as the best seller books Andrea Hirata.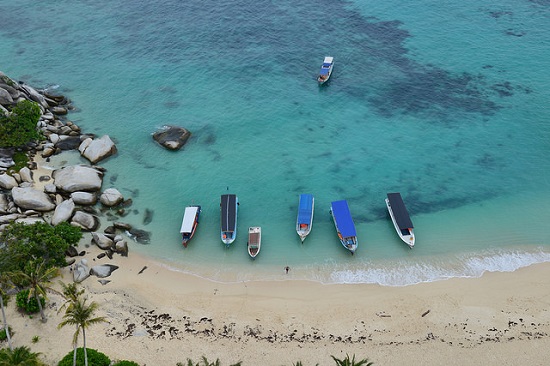 White rocky beach in Lengkuas Island Belitung
2. To Pagaralam
Pagaralam is a hilly town near the Mount Dempo (3.183 meters) the highest point in South Sumatera. Pagaralam has a beautiful nature scenery and the famous tea plantation. We can go to Pagaralam by using car or bus around 8 hours to the southwest direction (Bengkulu).
Palembang Travel: How to go to Palembang
From Soekarno-Hatta Airport (CGK) in Cengkareng Jakarta, we can take a flight Sultan Mahmud Badaruddin II Airport (PLM) in Palembang (several flights a day). The flight duration around 50 minutes.
The easiest way to go to Palembang from other cities is by air since Sultan Mahmud Badaruddin II Airport is located just outside the city. The flights will cost around 600.000-1 million rupiahs or around 50-80 dollars from Surabaya, Makasar, Bali, or Lombok with several regular daily flights. Indonesia AirAsia, Garuda Indonesia, Citilink, Lion Air, Wings Air, serves daily flights to Palembang. Besides that, you can go to Singapore with Garuda Airlines or Silk Air and to Kuala Lumpur with AirAsia.
Recommended Hotels in Palembang [More Hotels]
No booking fee and pay at hotel
(sponsored by Booking.com)
Images source: Flickr Dimas Wahyu, Dimas Wahyu, Arist Xiong, setiadi