Warning
: Use of undefined constant ICL_LANGUAGE_CODE - assumed 'ICL_LANGUAGE_CODE' (this will throw an Error in a future version of PHP) in
/srv/users/serverpilot/apps/feel-indonesia/public/wp-content/plugins/directory-extension-plugin/aitDirGallery/gallery.php
on line
134
Warning
: Use of undefined constant ICL_LANGUAGE_CODE - assumed 'ICL_LANGUAGE_CODE' (this will throw an Error in a future version of PHP) in
/srv/users/serverpilot/apps/feel-indonesia/public/wp-content/plugins/directory-extension-plugin/aitDirGallery/gallery.php
on line
135
Yogyakarta is famous as a city of education in Indonesia because here there are a lot of universities and polytechnics more than others area in Indonesia. Maybe you will think that this city is boring, nothing to see except universities, laboratories, and printing service. But, it is completely wrong! Here, we can enjoy a variety of travel destinations combined with the culture and local wisdom, making it is always interesting to visit. Borobudur and Prambanan temples stand as the main attractions. Here is our complete Yogyakarta Travel Guide for you.
Yogyakarta Travel Guide: Tourist Spots and Attractions
Do you want to see cultural and side of Indonesia? Jogja is a real storehouse of cultural tourism travel especially those who become its flagship. Famous temples such as Prambanan Temple and Borobudur Temple (the most famous temples in Indonesia). Besides that, Candi Ijo, Ratu Boko Palace, and Sambisari Temples. For Sambisari, you can visit this one because it is located near Adisucipto International Airport.
Prambanan is the biggest Hinduism temple in South East Asia. Since 1991, Prambanan has been recognized as UNESCO World Heritage Site, make more than 1,6 million people visit this temples last year. You can visit 47 meters height Prambanan which has beautiful sunset view with its gradation. Borobudur Temple, the largest Buddhist temple in the world also located nearby. Although Borobudur is not located in Yogyakarta, but in Central Java, visitor usually visit Prambanan and Borobudur as one package. You can see 123 meters x 123 meters temple area, make us amaze how people build this temple at 800 (eighth century, when civil engineering have not been to learned).
Booking Online Car
Rental in Yogyakarta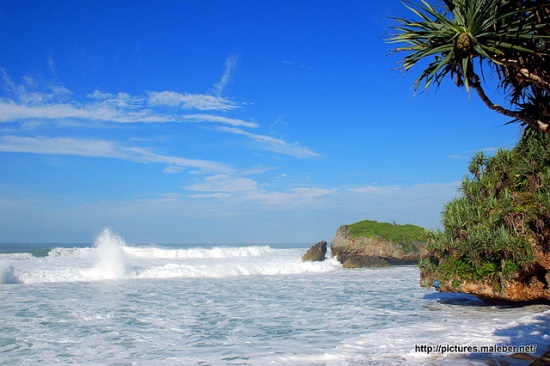 Yogyakarta Travel Guide: Gunung Kidul Kukup Beach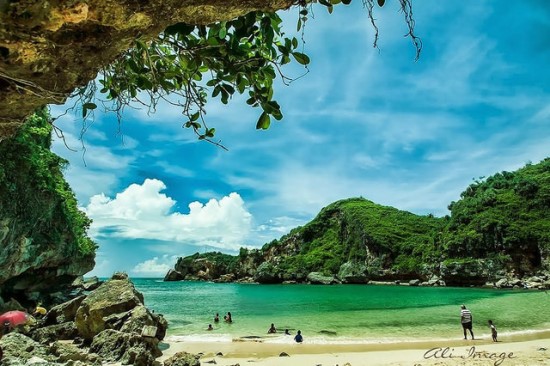 Yogyakarta Travel Guide: Gunung Kidul Beach
For the attractions, you can visit Gunung Kidul, Kaliurang, Parangtritis Beach which has a beautiful white sandy beach. Or go to the city center, visiting the Malioboro Street, a very famous traditional souvenir shops in Yogyakarta. Besides that, we can visit Keraton Yogyakarta where Sultan Hamengkubuwono and family lives. Also Taman Sari (also known as Water Palace) with amazing pools and garden. This place is used for the Sultanate Family to rest and take a bath for over centuries.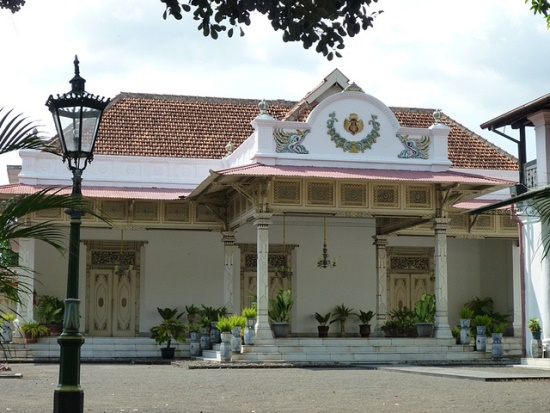 Yogyakarta Travel Guide: Keraton Yogyakarta
In harmony with it all, then no matter Culinary Jogja is the champion. You can try "angkringan"–eat in the small kiosk on the road during the night. Focused near Malioboro Street, you can eat many sweet snacks and also the famous Nasi Gudeg and Nasi Oseng.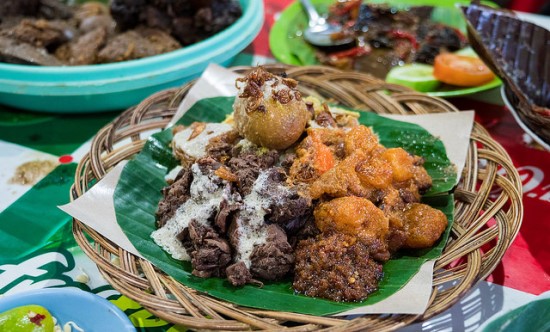 Yogyakarta Travel Guide: Nasi Gudeg
Yogyakarta Travel: How to get there?
Adisucipto International Airport (JOG) is located on 8 kilometers east of the city center. There are frequent (every two hours) connections on Garuda Indonesia to Jakarta (50 minutes) and 2-3 times a day to Surabaya (45 minutes) and Denpasar (60 minutes), as well as the other major cities in like Bandung, Palembang, Medan, Makasar, or Lombok. You can also have flight directly from/ to Kuala Lumpur (with Air Asia) and Singapore (with Silk Air and Tigerair).
Just after arriving at the Airport, we can go to the city center by using trains. Like Kualanamu Airport in North Sumatera, there is railway connects the airport and the city center. We can take Prambanan Ekspres regional train to/from Kutoarjo (west Yogyakarta), Palur (east Surakarta) and also Tugu Station (near the famous Malioboro Street) and Solo Balapan Station in Solo, the capital of Surakarta.
Travel Around Yogyakarta
Yogyakarta is well known as one of the best city for the traffic. Compare to other big cities like Jakarta, Surabaya, or Bali, it is easier and faster to travel around Yogyakarta. We can take Trans Jogja buses (operates every 10-20 minutes from 05:30 to 21:30) that connect the city center with the tourism spots. The ticket fare is Rp 4,000 for all route. For those of you who want to be free to travel, then the option of renting car or motorcycle is the best choice. In Yogyakarta, there are dozens of rental cars and motorcycles at prices varying between 300.000-500.000 rupiahs per day for cars and between 60.000-80.000 rupiahs per day for the motor. Rental Car in Yogyakarta via Klook Website.
Booking Online Car
Rental in Yogyakarta
Towards Jogja is very easy for a variety of public transportation can be used, ranging from buses, cars, trains, or by taking flights. Flights are the easiest and the fastest one, while the train is a good option if you are staying in Bandung, Semarang, or Surabaya with cheaper price.
Recommended Hotels near Malioboro Yogyakarta [More Hotels]
No booking fee and pay at hotel
(sponsored by Booking.com)
Images credit: Flickr Gunawan IP, Musriyati Sasmito, Anton Saputra, Anto Dwiastoro, celebrityabc